Is Beige Coming Back in Style?
When I first started staging houses back in 2006, beige was all the rage.  Beige couches, beige rugs, and beige walls were EVERYWHERE. There was dark beige, rosey beige which was almost pinkish on the walls.  Then came the cool grays craze.    People got tired of beige, and gray became the newest latest trend.  For many many years, gray became the go to color regardless of whether gray worked with the decor of the room or not LOL. Painters were recommending cool mid-tones gray as their go-to-color. The shade of gray would range from dark to mid grays.  Then came the lighter grays y lightened up  on the color wheel.  The grays lightened up a few years later as homeowners got tired of the dark cool grays.  Gray, however, can look dark and gloomy, especially on a cold rainy day or at night, when lighting is at its most challenging. 
Our color tastes shifted due to the pandemic
Move over gray! Beige is making a comeback. Due to the pandemic where we all spent far too long in lockdown and isolation, the way we viewed our homes and lived in our homes changed more dramatically than any other period in history. Weired of the cool colors that have dominated the past decade and want warmer color. But its bolder, more dramatic and warmer than the beige of the 80's.
With the shift in color from painting and decorating our houses all gray, we are seeing two extremes in colors in our home. We're seeing very netural walls as in white, cremes and light beiges. We're also seeing some much bolder colors in the warmer tones and darker tones as well.
Best 5 beiges for your wall!
Benjamin Moore Muslin OC-12 | CC-110
One of my favorite go to beiges that I recommended alot in both design & staging projects was Benjamin Moore's Muslin. Its refreshing, doesn't scream "beige" and goes well in most spaces. I stopped recommending it for awhile when the gray trend took over but if you're looking for a smooth mild beige, this may be the one for you.
Sherwin Williams 7036 Accessible Beige
Benjamin Moore Pale Oak
Try these bolder darker beiges
Sherwin Williams 6079 Diverse Beige
Sherwin Williams' Diverse Beige is a newer and better version of the older beige of the 80's. This beige is fresh, inviting and will look amazing in most spaces. It's up there as my favorite "beiges."
Sherwin Williams SW 9084 Cocoa Whip
SW 9084 Cocoa Whip is absolutely dreamy! Its darker than the beiges that we have previously seen from Sherwin Williams but is dramatic and daring at the same time. You may find this shade too dark and overwhelming for a large space, but it would look stunning in a dining room, master bedroom, or a washroom. I would definitely give Cocoa Whip a try!
Sherwin Williams SW 6039 Poised Taupe
LOVE, LOVE, LOVE this deep dark bold mid-beige by Sherwin Williams. Poised Taupe is dramatic and daring! It looks amazing here in this kitchen, would look cosy in a family room, dramatic in a dining room and sexy in a bedroom.
Sherwin Williams' 6031 Glamor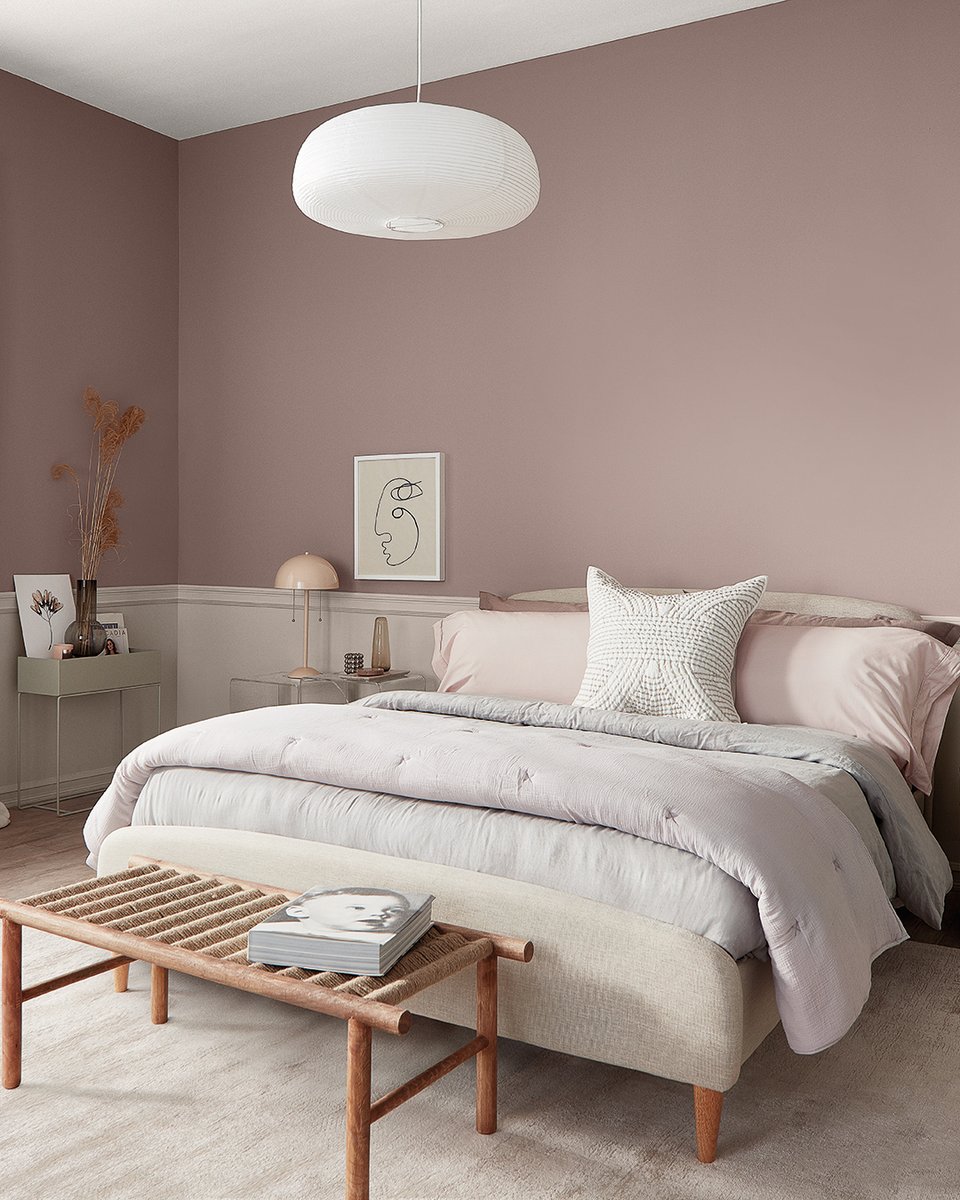 I don't know whether to call this color beige/pink or pink/beige. Whatever you want to call it, it is the perfect blend of beige and pink making this color romantic for a bedroom, or elegant for a girly living room.
How to Decorate with these Bolder Darker Colors
These bolder colors are fun and a welcome change from light and white colors that are prominent right now.
Having a bolder darker color on an entire floor may be refreshing at first but can become wearing after awhile and somewhat deary on darker cloudy days, especially if there is not alot of natural sunlight like in a hallway or a north facing room. The darker choices may not work for an entire floor but would look stunning in a family room, dining room, a bedroom, office or a bathroom. Depending on your exposure and finishings, these colors would look lovely in a home.
Need help picking a color for your room?
Do 50 shades of grey, white, beige, greige or cream overwhelm you? Do you want to pick another color other than a neutral but are unsure what to pick? Windows with south exposure, east exposure, green undertones, blue undertones leave you feeling how can you pick a color that you will be happy with for years?
Choosing the right color(s) for your room(s) can be daunting but it doesn't need to be. I will take the guess work out of picking colors for your for a room.
Check out my online Design, Staging & Color Consult services here!
Hi! I'm Debi Collinson. I'm a decorator, stylist, color expert, stager and real estate investor. — My design advise to the world is … styling your home is the BIG secret in having an Instagram worthy home as opposed to a ho hum look.
— My superpower is about styling to make your home stunning all while adding value to your home at the same time!
— It all started back in 2006, at the request of a realtor, where I nervously staged my very first home. The sellers liked their newly styled home so much that they turned down an offer for full asking price and stayed. I went back to design school and the rest is history. I've been working my "magic" with hundreds of clients to create a stunning retreat whether they're styling to stay or staging to sell!
In my spare time, LOL, I buy "fixer uppers" to fix up & either sell for a healthy profit or to rent. I'm currently living in my 9th "fixer upper." Sign up to receive my e-mails on how to make your home your stunning retreat, how to sell your house for top dollar AND how to become financially independent one fixer upper at a time!