2024 Sherwin Williams Color of the Year Upward Paint Color Review
Sherwin Williams just announced their color of the year among great anticipation and they did not disappoint. Their color of the year is a beautiful calming blue-gray shade called Upward SW 6239.
We've been through alot of different Color of the Year's lately. In 2020, Sherwin Williams announced Naval, a popular navy classic as Color of the Year. This color was not much of a shocker. 2021, Urban Bronze, was a bit of a surprise with this moody dark brown with gray undertones since we had just come out of the all gray phase and were into the all white phase. 2022 started the green trend phase that we are currently still in with SW Evergreen Fog. This year, 2023 started a new trend of pink beige with SW Redend Point as the Color of the Year. I personally love, love, love this color but I haven't used. I used a similar color back in the 80's but I don't have a place for this now in my river house.
According to Sue Wadden, Director of Color Marketing at Sherwin-Williams, 'Upward SW 6239 represents the gentle forward momentum in all of our lives.' 'It brings to life that carefree, sunny day energy that elicits a notion of contentment and peace. With this color, we invite our consumers to take a pause and infuse a new sense of ease and possibility into their spaces – one that doesn't overwhelm, but rather establishes meditation and tranquility.'
Sherwin Williams Upward
And now for 2024, we have Upward as our Color of the Year. Another color of the year that I absolutely love. Its actually not that much of a surprise that Sherwin Williams picked this color as blue-gray or also known as slate blue, as a color has been trending for the last couple of years.
What's Is Upward's LRV?
Upward's LRV (Light Reflective Value) is 57 which puts it in the medium-light color category but its not too light and not too dark. You could say its just right.
Is Upward a Blue or a Gray?
Upward is a blue with gray undertones. It also has a slight violet undertone to it so depending on the other elements of your room, and your lighting, you may or may not find this a good fit for your space. You definitely want to test this one to see if you can live with the violet undertones or not.
Is Upward a warm or cool color?
Upward is a warm blue BUT it can look like a cool blue depending on the light or room direction that it faces like a north facing room. That's why its always so important to test your colors before painting your walls.
Where can I use Sherwin Williams Upward?
Upward leans into a coastal color category. That doesn't mean that you can't use it in an urban home. Of course it would look fabulous in any room but using Upward as an Exterior paint color I would save for a costal home.
Sherwin Williams Upward in the Bathroom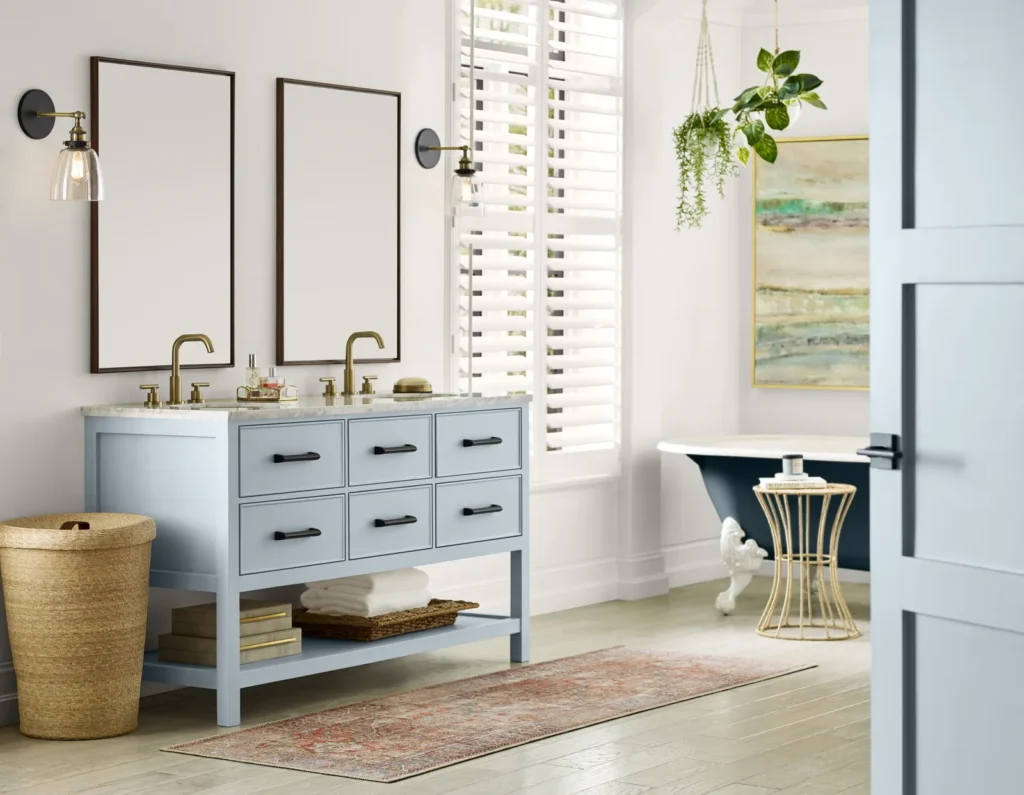 Photo: Sherwin Williams
Blue bathrooms are always serene and calming and its the look you want for your bathroom in my humble opinion. SW Upward would look great for any bathroom be it the family bathroom or a powder room. In our photo above, Upward was used for the bathroom cabinet and the inside of the bathroom door to create this stunning retreat!
Sherwin Williams Upward in the Bedroom
Photo: Sherwin Williams
Blue is always a relaxing and calm color for a bedroom and Upward is no exception to this bedroom above. I would absolutely use Upward in a heartbeat in a bedroom.
Is Upward a good color for a Kitchen?
This kitchen above using Upward is super cute and I would love to have it in my beach house. In fact, I may paint my beach house kitchen this color lol. But an Upward kitchen shouts coastal and beach vibe. Would I use Upward in an urban area? No, I wouldn't recommend it. It would look out of place and not be great for resale value if you're selling your home.
Photo: Sherwin Williams
Is Upward a good color as an exterior paint color?
Typically Upward would not be a good exterior color unless its used in a coastal area. I could see myself painting my beach house located in a popular tourist town this color. It would look fabulous, but I would not recommend Upward for an urban setting. It would look out of place.
Photo: Sherwin Williams
What white trim goes with Upward?
Sherwin Williams High Reflective White SW-7757
Sherwin Williams Extra White SW-7006
Benjamin Moore Chantilly Lace OC-65
Benjamin Moore Decorator's White OC-149
So what room are you going to paint with Sherwin Williams Upward?
Need some color advise?
Choosing the right paint color the first time around can feel overwhelming whether it be one room, your kitchen cabinets or a whole house paint color.
I can help you take the overwhelm out choosing the right paint color for your home with my online e-design services.
How does it work? Once I have received your payment, I will send you a questionnaire within 24 hours asking you a few questions about your kitchen, and show you how you need to take pictures that I will receive. Once I review your information, I will provide you with your personal consultation with 3 -5 business days with 2 – 3 paint color choices, plus a Samplize board for you to test the color, and DETAILED instructions on how to test your paint.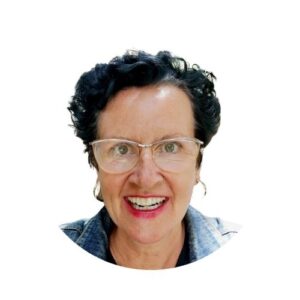 Hi! I'm Debi Collinson. Designer. Color Consultant. Real Estate Investor.
I conducted my first paint color consult at the age of 7 for my dad. lol. I grew up looking at blue prints and helping my dad, an Engineer|General Contractor and owner of a Design|Build|Engineering firm pick out paint colors for his building projects.
In 2006, a Realtor asked me to stage a house. Staging was just becoming a thing so I watched every HGTV show I could to get knowledge. My first clients liked their newly staged home so much that they turned down an offer for full asking price and stayed in their home. I went back to Design School and the rest is history. Since 2006, I have been helping busy homeowners, just like you, to style their house to make it a stunning retreat, where they can live and enjoy their home.
In my spare time, LOL, I buy "fixer uppers" to fix up & either sell for a healthy profit or to rent. I'm currently looking for my 10th "fixer upper." Sign up to receive my e-mails of how to make your home a stunning retreat, how to choose the right paint color the first time around AND how to add value to your home! Read my full story including my design credentials here.