Best LIGHT Greige (or warm gray) paint colors – Sherwin Williams & Benjamin Moore
Unless you live under a rock, you have definitely heard of the color "greige." Greige is simply gray and beige mixed together. Its a warm gray for those of us that prefer a warm gray compared to a cool gray.
They're alot of wonderful greiges out there, and alot of popular ones, but here we're discussing the light greige colors that would fall into the off-white color collections that you would consider as an alternative to a white or cream. I'm cutting off greiges that have an LRV lower than 60 so some of the famous medium toned greiges won't make this list. Not because they're not wonderful, but because I'm focusing on light warm grays or greiges with an LRV of 60+. Any color that has an LRV lower than 60 is not really considered a neutral. It becomes more of a color.
So what the heck is an LRV? The LRV of a paint color reflects the amount of light it will reflect or not. This number is on a scale of 0 – 100, with 0 being pure black and 100 being pure white. This will help give you an idea of how dark or bright a paint color is.
All greige paint colors are going to look different at different times of the day and at different exposures. Greiges tend to lean towards gray in north facing rooms, whereas greiges tend to lean towards beige in south facing rooms. The degree to which a greige looks 'beige' or 'gray' will depend on a number of factors like the time of day, the exposure of natural light in a room or the lack of natural light in a room, like a hallway.

If you're choosing a paint color for the whole house, you need to anticipate these slight deviations that the paint color is going to look throughout your home. These deviations will happen with any paint color. Some will be more noticeable than others. North facing rooms are the trickiest when picking a paint color because of the lack of natural light they receive. That's where testing becomes so important so you can decide, what you can live with, and also importantly, what you can't live with.
5 Best Sherwin Williams LIGHT Greige Paint Colors
Starting from light to darker, here is a list of my favorite 5 Sherwin Williams light greige colors that you could use as a whole house color.
Sherwin Williams Shoi White 7402
Photo: Amanda Louis Interiors
Don't let the name fool you! Sherwin Williams Shoi White is a beautiful warm creamy greige. It has an LRV of 74 which puts it in the off-white color collection. Its a warm greige with slightly green undertones. You can see the effects that natural light has on this color. It appears more of a cream when the color is on the upper cabinets, but more of a greige on the lower cabinets that is not receiving the natural light.
It would look beautiful as a whole house paint color. Pictured above, its lovely on the kitchen cabinets. We're seeing a trend away from pure white cabinets and leaning towards warm off-white colors.
Due to its slight green undertones, be sure to test this color. But Benjamin Moore's Revere Pewter is a very popular medium greige color with slight green undertones and people love it. See my long rambling note below about greiges and green undertones!
Sherwin Williams City Loft 7631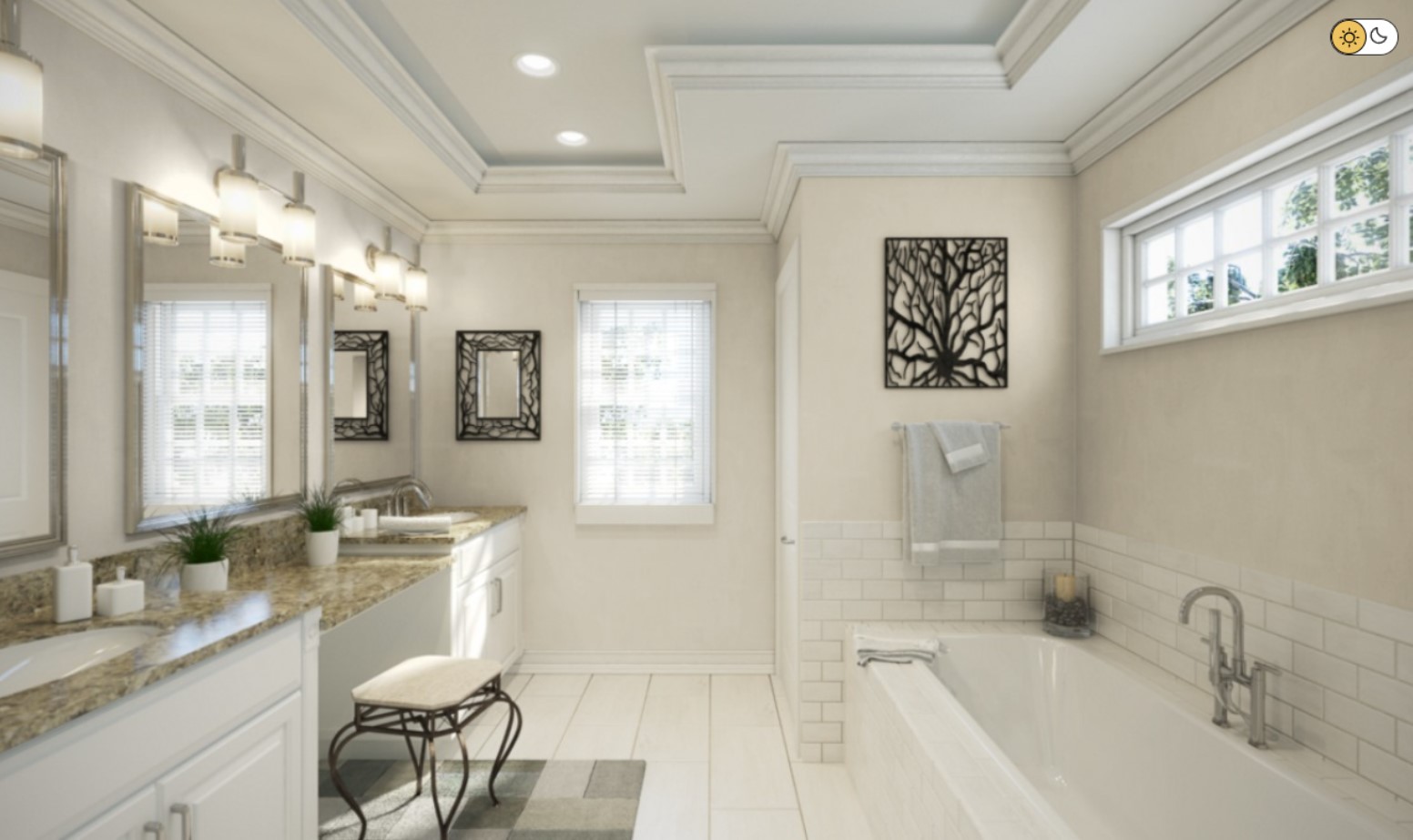 Photo: Sherwin Williams
Sherwin Williams City Loft is a warm beige-gray. Some people will say it has slight green undertones, however on Sherwin Williams website, it states it has red undertones. Who am I to argue with Sherwin Williams lol? From pictures, it looks like it has slight pink undertones which would concur with the big giant. Sherwin Williams City Loft has flown under the radar in terms of popularity, but due to its warm greige vibe, its starting to gain traction. Its a warm greige and with an LRV of 70, putting it in the off white color collection.
Sherwin Williams Drift of Mist 9166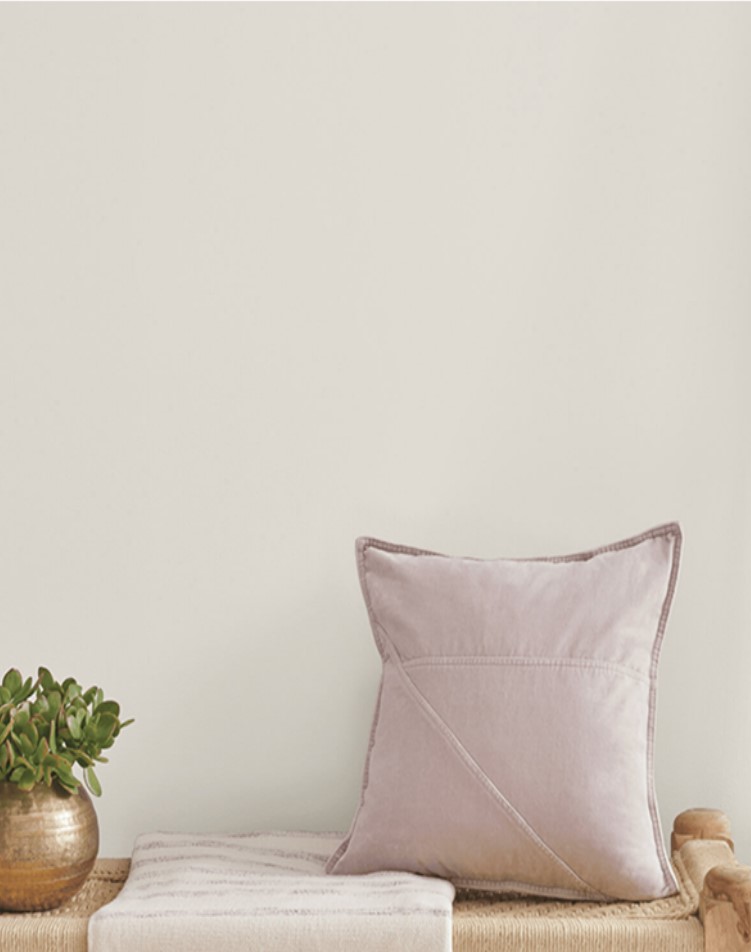 Photo: Sherwin Williams
Sherwin Williams Drift of Mist is a warm greige with an LRV of 69 which puts it in the light paint color category but its not too light where it can get washed out in alot. Its gets compared to Sherwin Williams City Loft since they have very similar LRV value. City Loft is a touch warmer than Drift of Mist. Drift of Mist is every so slightly darker than City Loft. Both reflect alot of sunlight but its not as dark as Agreeable Gray or Accessible Beige. Its a warm gray/beige with green undertones that most greiges have.
Sherwin Williams Agreeable Gray 7029
With an undertone of 60, Sherwin Williams Agreeable Gray just narrowly slides into this list of light greige paint colors. Its Sherwin Williams best selling paint color and its easy to see why. Agreeable Gray is a lovely mix of beige and gray. It can lean into more gray than greige in certain lighting, especially in north facing rooms, but looks warm in south & west facing rooms.
Its a great color if you want a warm gray but have some gray fixed elements kicking around from the all gray area that you want to blend into your room. The color is a nice neutral for the stone fireplace and hardwood flooring. It compliments the furniture nicely as well.
Photo at right:
SW Agreeable Gray, Kylie M. Interiors
Sherwin Williams Accessible Beige 7036 58
Photo: @masionwithavista
Sherwin Williams Accessible Beige 7036 If you find Sherwin Williams Agreeable Gray a bit to gray for your liking, you might find this best selling greige more favorable. SW Accessible Beige leans more into beige than gray, and it has a bit more warmth to it than Agreeable Gray. Its LRV is 58, which is makes it a tiny bit darker than Agreeable Gray, but I'm squeezing it into the light neutrals paint color category. Accessible beige as a slightly yellow undertone which adds to its warmth. However, this undertone may show more in some lighting than others. As always, you need to test the paint color to see if its the right fit for your home.
What You Need to Know about greige paint colors and green undertones.
Alot of greiges, gray + beige, tend to have slight green undertones. That's the nature of a greige color combination. One of the most popular paint colors, Benjamin Moore's Revere Pewter is a greige, gray + beige with green undertones. Green undertones will show more in some directions and under certain lighting conditions than in other conditions.

In one house I staged, the homeowner used Revere Pewter at the recommendation of a previous stager (who was fired), but the green undertone was so strong on the accent wall, the room felt off and the homeowner switched to a different color. In other homes I staged, the Revere Pewter green undertone did not show up at all. The color looked gorgeous on the walls and gave the room a beautiful background to create a warm + inviting living space.

When testing a greige with green undertones, its important to take into consideration the direction of the room and the lighting in the room. North facing rooms without alot of natural light will show the green undertones more so than in other conditions. Also, if you choosing a paint color where there is green undertones in the fixed elements like flooring, countertops and backsplashes, greiges may be the perfect match for you. If your fixed elements to not have green undertones, greige may NOT be the perfect color for you.

Testing your paint colors the right way, will help you determine if a paint color is the right fit for you taking all the right factors into consideration.
5 Best Benjamin Moore Light Greige Paint Colors
Classic Gray OC-23
Photo: Benjamin Moore
Don't let the name fool you. This 'classic' gray is a beautiful warm greige that could be your whole house paint color. With an LRV of 78.4 this puts 'classic' gray into the off-white collection. It creates a very light and airy feeling in the room. It creates the perfect backdrop to create a space you will love. It has slightly pink undertones that may reveal its self in south facing rooms. This neutral may appear a bit darker in north-facing that don't have alot of natural light. It could be a good alternative for those wanting a very light neutral that leans into gray & greige. It would be a nice complement for homeowners that have some gray furniture & fixed elements left over from the all gray phase we went through.
CC-80 Gray Mist or Fog Mist OC-31
Left: Benjamin Moore Gray Mist, CC-80, Photo: Benjamin Moore
Right: Benjamin Moore Fog Mist, OC-31, Photo: Benjamin Moore
Gray Mist CC-80 and Fog Mist OC-31 are often compared with one another as they are very similar warm greiges or warm grays with similar LRVs. They both would make a good whole house paint color. They both have green undertones which would be more visible depending on the direction of the room and the time of the day. In a north facing room, both colors will lean towards gray whereas in a south facing room they will lean towards beige. Gray Mist has a slightly stronger beige backdrop, with a misty overtone of gray. Both Mists can lean towards tan or cream in some lights.
Benjamin Moore Balboa Mist OC-27 lrv 71.3
Photo: Benjamin Moore
Balboa Mist is one of the most popular paint colors of all time and personally one of my favorites. When I staged houses regularly, I often recommended Balboa Mist as its such a versatile warm greige. Its not too dark or too light and immediately warms up any room. Its neutral that it can work in any room be it a bedroom, living room or as a whole house color. ably one of the most popular colors.
Benjamin Moore's Winds Breath OC-24 lrv 71 vs Pale Oak OC-20 lrv 70
Left: Benjamin Moore Winds Breath, OC-24 Photo: Benjamin MooreRight: Benjamin Moore Pale Oak OC-20 Photo: Benjamin Moore
Benjamin Moore's Winds Breath and Pale Oak are often compared to one another as they are both warm greiges with similar LRVs. Winds Breath has an LRV of 71 with Pale Oak's LRV coming in at 70 making them both in the off-white paint color collection.
Winds Breath is becoming my new favorite greige. Its a warm paint color that is a combination of beige and gray. It can even look a little bit towards a cream in some lighting. It would be a great whole house paint color. But it could be a little tricky if you're needing to accommodate fixed finishing like kitchen countertops, backsplashes and flooring because of how this color leans depending on the lighting and the time of day.
Pale Oak is a Benjamin Moore classic and one of their top selling paint colors. Its another warm greige that is very versatile, looks great in all room directions making it a wonderful whole house paint color.
Benjamin Moore Edgecombe Gray HC-173
I'm over my limit of 5 paint colors here but Edgecombe Gray is a classic and one of Ben's top selling paint color of all time. It's also the darkest Benjamin Moore on the list with an LRV of 63.09 which means it has a bit more "color" than all the other colors mentioned above. Edgecombe Gray is a warm greige. Its the perfect blend of beige and gray. It will lean towards gray in the north facing rooms and towards beige in the south facing rooms. It is still considered a light neutral but its very close to the medium paint color category so if you want a paint color with a bit more oomph than the previous five, this could be the one for you.
The Best Way to Try Out Paint Colors
The old method of buying samples pots of paint and painting various walls is an inefficient way of testing the best paint color for your home. A better option is to buy large cardboard paint samples that you can actually test on your walls at different times of the day to access what is the best color for your home.
Samplize is a company that sells large paint boards from the leading paint companies and comes in a wide range of colors. These large paint boards can be placed with their sticky backing on various walls at different times of the day and in different rooms. It will give you a great way to see if the color works in your room or not.
Need help? Feeling Overwhelmed?
I help busy homeowners, just like you, to style their house to make it a stunning retreat, where they can live and enjoy their home. I can help you choose colors for your home or exterior that will co-ordinate with your existing features and give you a color that you will love.
Hi! I'm Debi Collinson. Designer. Color Consultant. Real Estate Investor.
I conducted my first color consult at the age of 7. lol. I grew up looking at blue prints, visiting construction sites and helping my dad, an Engineer|General Contractor and co-owner of a Design|Build|Engineering firm pick out paint colors for his building projects.
In 2006, I staged my very first house. Staging was just starting to become known in the real estate industry. There was no formal staging training at that time so I watched every HGTV show on staging that I could find as I nervously staged my first house. The couple liked their newly "redesigned" home so much that they turned down an offer for full asking price and decided not to move. The rest, as they say, is history. I went back to school to study interior decorating and design. My design & staging firm is recognized for helping clients achieve their dreams either through designing their space, or helping them achieve top dollar by staging their home when they're ready to sell.
In my spare time, LOL, I buy "fixer uppers" to fix up & either sell for a healthy profit or to rent. I'm currently looking for my 10th "fixer upper." Sign up to receive my e-mails of how to make your home stunning, how to sell your house for top dollar AND how to become financially independent one fixer upper at a time! Read my full story including my design credentials here.