From Laundry Room to Home Office | Media Room Makeover
Five years ago, I bought another fixer upper again, I know, lol. It was a 7 level townhouse, yikes! It was in a really great location, AND the price was the lowest price ever, for a townhouse in this sought after neighborhood. It was perfect for my strategy of buying the lowest price properties in a great neighborhood!
The laundry room was in a really weird location and a complete waste of space in my humble opinion. Double lol. It was not located in the basement but in an "in-between" space a level up from the basement and below the main living room level. The basement at the time was just being used as storage.
So one of the first renovations I did when I moved into my townhouse was to move the washer & dryer downstairs. I also bought a new sink for the basement which the cat enjoyed as her new sleeping spot.
The Embarrassing Before Pictures:
In all of its ugly glory, here is the former laundry room. There are a few challenges with this space. Its an open space with no door going into the room, and its on the way from the lower landing from the carport to the living room so its a pass through area. Its has no windows, and there is one lowly ceiling light. Obviously not enough light for a space without windows. And the room is long and narrow. Nothing dramatic that proper planning can't handle.
I went back and forth about closing this space off and make it a separate room which could also double as a guest bedroom, but I decided not to in the end. I thought the space was too small for this idea and it closing the space off would make it even smaller.
Home Office | Media Room mood board:
I preach to my clients, and anyone else who will listen, lol, the importance of mood boards. Mood boards are a visual goal list of how you want the room to look like. It's your vision for the space. Its a chance to see the ideas that are swirling around in your head in pictures. Your actual room in the end, may not look exactly like the mood board that you started with, but its a start to plan to see what your space will end up looking like, how your various furniture & accessories are going to work together, and it gives you a chance to see if something is missing or if something doesn't belong.
Home Office Reveal
The moment you've been waiting for….
Originally I was going to paint the tiles, which is a feasible option, but in the end, since I was replacing all the floors with luxury vinyl plank flooring, I wanted consistency through the townhouse so I replaced the flooring with VPF here as well.
I painted the entire floor Behr Palais White which is very similar to Benjamin Moore White Dove. Both colors are a warm white and are suitable for a whole house color. What a difference on the walls. Its so much lighter and it looks more spacious. Make a room lighter with light wall color is so important in a room without windows.
And the before as a reminder… A bit of a difference eh?
And the south side…
And the before. Its hard to believe its the same room. And what a waste of a room by just having a washer & dryer in this space with the basement down below.
A view of the room with the landing just left of this picture. This room looks so much more warm and inviting. You can see that the desk isn't what was on my mood board, but I thought it would be alot of work assembling and moving the desk as I was selling my house. I used a desk from a previous room. The color works in the area and the size works for the space. I'm really pleased with how the overall space turned out.
Read related posts:
Do you have a room in your house that is underutilized and could use a makeover?
Hi! I'm Debi Collinson. I'm a Designer, Certified Color Consultant & Real Estate Investor.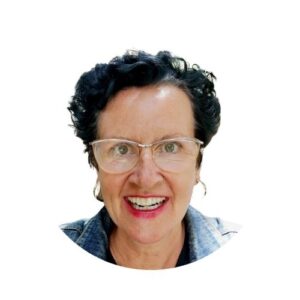 I grew up learning how to read blue prints, going on construction sites and helping my dad, an Engineer|General Contractor|Co-Owner of a Design|Build|Engineering firm pick out paint colors for his buildings. Since 2006, I have been styling & staging hundreds of homes to make them look like they belong in a magazine page whether the client is styling to stay or staging to sell.
In my spare time, LOL, I buy "fixer uppers" to fix up & either sell for a healthy profit or to rent. I'm currently looking for my 10th "fixer upper." Sign up to receive my e-mails of how to make your home stunning, how to sell your house for top dollar AND how to become financially independent one fixer upper at a time! Read my full story including my design credentials here.