My Kitchen & Dining Room Makeover in my 9th House Flip
Approximately 5 years ago, I bought a fixer upper. I needed to find somewhere quickly to live within a certain school district for my two teenagers and myself. I looked at renting and almost found something when my brother found two townhouses for sale in a complex across from one of the schools. I had previously staged a townhouse in the complex so I was familiar with the area. After doing the market research in the area, and doing the numbers, I JUMPED at the opportunity.
The kitchen was, in my humble opinion, one of the tiniest kitchens in North American. It was the bane of my existence. I couldn't wait to get my hands on this kitchen renovation.
When I first started the project, the real estate market was just starting to talk about a slow down. By the time I finished it, you could see the brakes being put on the market.
Since I was selling my townhouse, I picked finishes and a design that would appeal to my market, first-time buyers. There were alot of townhouses with plain white kitchens in the complex for sale, so I wanted to something different, and something a bit trendier. A bit of a risk, but I was hoping my vision would pay off.
The dreaded before pictures:
The after pictures:
Its hard to believe its the same space. I knocked down the wall on the right which was not a load bearing wall (bottom right of the before pictures) to open up the space. The fridge was cramped into that tiny corner where the wall had been, and I moved it into the former dining area. It was a game changer.
I also added a pantry that would be the envy of any neighbor because one of my biggest beefs with the tiny kitchen was that I had NO storage space for food. Since I couldn't change the wall on the left hand side, I worked with it by moving the fridge on that wall, flanked by the panty. Now there is a double bank of long cabinets flanking either side of the fridge for storage.
Another bone of contention with this kitchen was that there was no dishwasher. I moved the sink over to the far left against the wall to accommodate a dishwasher. In doing so, I wasn't able to put in the same size of sink but it was a trade off. I went for a smaller sink size in order to add a dishwasher. A dishwasher is a huge selling feature when selling your house.
I had a fan/microwave installed above the stove to save counter space.
All the appliances I put in were stainless steel of course since this is what homeowners are wanting when they are looking for a house. I bought a package deal that Home Depot had on at the time. I bought a solid well known brand and went in the middle for price. Not crazy high, or the low end. Something that was practicable, affordable and what people would want.
My three biggest design questions when I was designing the space was one, how to design the space, two what type of cabinets to use, and three, what type of countertops, backsplash & flooring to go with. Since I was getting my house ready to sell, I did what everyone else would do. I went to every open house that I could. I checked out my competition and went online for the 4 years I lived there, constantly checking out what others were doing with their houses.
I went a bit bold as I went for the two toned kitchen cabinets. Most investors/homeowners were putting in all white cabinets, but then I thought I wouldn't stand out from the competition so I went with something different.
As in all my designs, I started with a mood board above. The design of the space was a bit challenging since I had a galley kitchen, long and narrow on two sides. But I designed the space to use it to my advantage. I created a long countertop with a breakfast bar at one end overlooking the living room taking advantage of the light from down below since there are no windows in the kitchen. I put all the appliances and the pantry along the back wall. I used luxury vinyl plank flooring throughout the townhouse in a mid-tone beige/greige color for consistent look. The purpose of a mood board is to make sure that all your components for a space co-ornate and flow throughout the space. . I ran out of time to create the stunning wood table so I bought a white Ikea kitchen table that co-ordinated with the white kitchen cabinets and white countertop. All the planning and hard work paid off. I ended up doubling my investment money even in a slow real estate market.
Are you about to start a design project in your house and need some advise? Are you getting your house ready to sell? Do you need some color advise?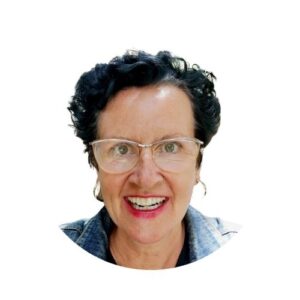 Hi! I'm Debi Collinson. Designer. Color Consultant & Real Estate Investor.
I grew up learning how to read blue prints, going on construction sites and helping my dad, an Engineer|General Contractor|Co-Owner of a Design|Build|Engineering firm pick out paint colors for his buildings. Since 2006, I have been styling & staging hundreds of homes to make them look like they belong in a magazine page whether the client is styling to stay or staging to sell.
In my spare time, LOL, I buy "fixer uppers" to fix up & either sell for a healthy profit or to rent. I'm currently looking for my 10th "fixer upper." Sign up to receive my e-mails of how to make your home stunning, how to sell your house for top dollar AND how to become financially independent one fixer upper at a time! Read my full story including my design credentials here.