Best Navy blue, Teal blue & Slate Blue Paint Colors for your front door
Blue paint is currently the most popular color. The most popular blue paint colors for front doors is navy blue, teal and slate blue also know as blue-gray. Blue is a very calming color and its so versatile. Depending on the shade and hue, blue can go with almost any color of brick, stone or vinyl siding whether its black, gray, taupe, white, cream, beige, yellow, red or an orange brick. So with all those color choices, you can see why choosing a blue paint color for your front door can be almost fool proof. Key word being almost.
Blue is a classic color that is known for giving a calm and relaxing feel. Depending on the shade or hue, blue goes with almost any type of exterior style.
A general rule of thumb is the darker the exterior, you typically want a lighter to mid blue shade. A dark exterior and a dark front door does not give enough contrast. However, that doesn't always apply for lighter exteriors. You can put a light blue door with a white exterior and it still looks amazing but subdued. However, if you put a mid-tone to a dark blue with a light exterior, like white, cream or a light taupe, it stands out and makes a beautiful contrast.
Starting from dark blue to light blue, here are the best blue paint colors for your front door & when to use them…
Best Navy Blue front doors
It's no surprise that navy blue is one of the top favorite colors for front doors. Its a classic, always looks amazing, and never goes out of style. Navy blue will go with most exteriors and looks amazing with white, yellow, taupe, beige red | orange, gray and brown. If you have dark brown or dark gray stone or siding, choose a mid to lighter blue instead of a dark navy.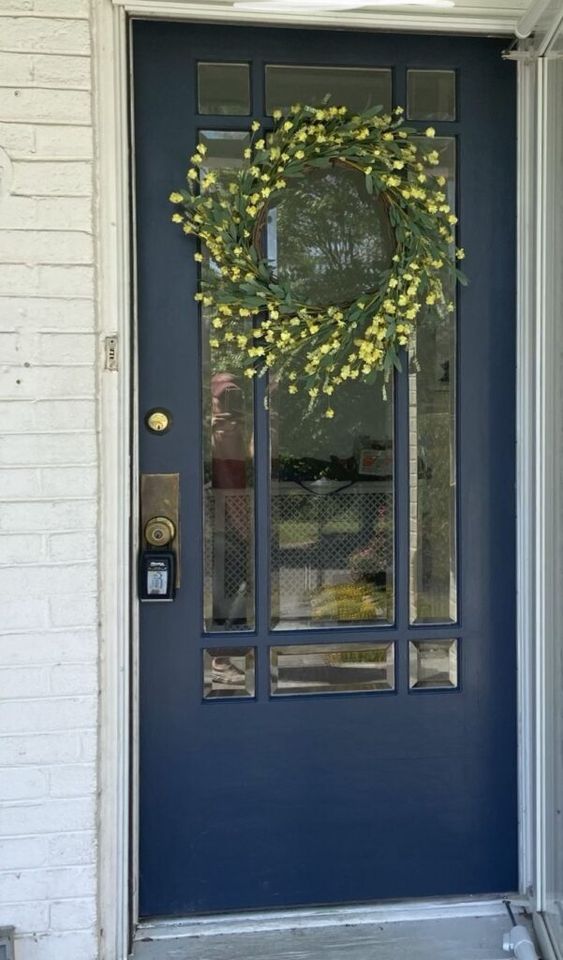 In the photo above, source unknown, we see a beautiful navy blue with a white exterior. It is stunning. There are numerous shades of popular navy blues. The most popular navy blue shades are Benjamin Moore Hale Navy HC-154 and Sherwin Williams SW 6244 Naval. Hale Navy is a timeless classic color that is blue with gray undertones. Sherwin Williams Naval is always used as a comparison with BM Hale Navy, but ironically they're not actually a color match. Naval is a bit richer than Hale Navy.
Photo: Pinterest
Sherwin Williams SW9177 Salty Dog, above, is a classic and very popular. Its a mix between royal blue and navy blue. It goes well with most exteriors including white, taupe, yellow, beige, greige, red-orange and light to mid-gray.
If you're finding Sherwin William's Naval, and Benjamin Moore Hale Navy a tad too dark, Sherwin Williams Salty Dog, SW9177 and Benjamin Moore's Van Deusen HC-156 are a little lighter and also very popular colors.
Benjamin Moore Van Deusen Blue HC-156 is another classic. Its a tad lighter than the traditional navy blues. For my porch above, I picked Van Deusen Blue because of the porch overhang. The traditional navy blue would have been to dark, almost black, in some lighting, and that was not the color I was going for with the brown garage door and the orange | beige brick. Always test your color first, especially if you have a big overhang porch over your front door.
You ALWAYS need to test your front door color first before going full throttle. If your door gets a lots of direct sunlight, your paint color could look washed out and you may need to choose a shade or two darker. Similarly, if your front door is shaded by an overhang porch, your paint color is going to look darker so you may want to try a shade or two lighter.
Best Slate Blue Front Doors Colors
The color royal blue for front doors was very popular in the last 10 years. You still see some royal blue front doors around, but the color that is replacing royal blue is slate blue, also known as blue-gray or gray-blue. Slate blue is a calming color and very versatile. This color is going to be around for a looooong time.
Slate blue, blue|gray, is one of the trending blues not only for front doors, but interiors as well and its hard not to see why. Its a refreshing color that work well with white, grays, beiges, black, taupes, red | orange brick, and yellow siding. It works well in any type of neighborhood and doesn't come across nautical like some blues can. Of course, the shade & hue you pick for the front door will depend on the color & shade of your exterior.
Blue gray is exactly how it sounds. Blue with a touch of gray or also called a gray undertone. Gray-blue is gray with a touch of blue or blue undertone so it looks more gray than blue. Slate blue comes in many different shades from light to dark.
Photo: Jamie Keskin Design
I don't know the exact color of the above photo but it's absolutely stunning. Its similar to Sherwin Williams Distance 6243. A beautiful deep slate blue with a gray undertone that would work with most exterior colors including white, as we see in the photo above, tan, beige, taupe, gray, yellow, red | orange and black.
Sherwin Williams Secure Blue sW6508 is a beautiful rich blue that has more blue in it than gray. Would go beautifully with taupe, white, light to mid grays, and yummy with yellow.
Above are some beautiful Sherwin William blue grays to try. Again, they vary on the amount of blue vs. gray combination that they have. Benjamin Moore also has some amazing blue-gray paint colors as well. Check out their colors in my post below.
Photo left is a beautiful rich blue that would look great with taupe or gray exteriors. I don't know the exact color but its very similar to:
Best Teal Blue Front Door Colors
Teal became popular when Benjamin Moore surprised the design world in 2021 when they announced Aegean Teal 2136-40 as 2021 Color of the Year. All designers were stunned because we were in the all gray era for 10 years, and the all white era took over. But we were in the middle of the pandemic where we were all staring at the same four walls forever, and we suddenly craved color. Teal is a blue-green color that can lean towards blue or green, depending on the shade. It can be subtle & muted as we will see below, or it can be bold and fun where we tend to see these colors more in coastal homes.
Photo: Benjamin Moore
Benjamin Moore's Aegean Teal 2136-40 stole the show when it became Color of the Year 2021. Its very calming and would add charm to any front exterior. Aegean Teal is a blue-green with a touch of gray. Aegean Teal would work with most exteriors, but it would excel with white, taupe, deeper beige, mid-dark grays, and of course, would be dramatic with black.
This is Why You Need to test your Paint Colors:
Benjamin Moore's Wythe Blue HC-143 is also a popular blue-green teal color with a hint of gray. It leans more blue than its popular Aegean Teal. Again this is a very versatile color that compliments most exteriors including white, beige, taupe, grays, and even black. Would not choose it for yellow, or orange-red. There would be better choices.
The effect of direct sunlight & porch overhangs on exterior front door color
You can see in the pictures above, that lighting, or lack of lighting, and a porch overhang has on the effect on color. The picture on the left is exposed to direct sunlight, and is under a large porch overhang so the color appears a bit faded & muted. The SAME color on the door on the right looks richer & deeper. Obviously not exposed to the same elements as the door on the left. Same color. Different effects with different exposures! That's why you always need to test! test! test! your paint color.
Photo: www.sherwin-williams.com
Sherwin Williams Dutch Tile Blue SW001 is a soothing light blue with a touch of gray. This color would look best with white exteriors, all shades of gray exteriors, even black, taupe, and beiges. Because this is a lighter blue, pairing this with the darker grays & black would make this front door pop and your front exterior stunning.
Teal can range from a subdued shade that is soft, whimsical and calming. It can also be quite bold that says "Look at me, I'm teal. I'm fun & vibrant." Teal can work with MOST houses, but again, it depends on the shade of teal, and the color of your stones | siding | brick | roof | trim colors.
You may love the color teal, but it may not work for your house. I painted one of my front doors a bright teal. I loved the bright teal and it looked great. But even though it was very fun, I thought it looked silly in the winter as the snow piled up against the door. I repainted the door to a darker blue and it looked amazing!
Sherwin Williams 6942 Splashy is a wonderful bright teal that would cheer up any front door. It would go well with most exteriors especially gray, white, black, and taupe. Would look great with a coastal style home, and it would shine in more of the sunshine states.
Photo: Linda L. Floyd, Inc., Interior Design via Houzz
The photo above is a beautiful rich teal blue paint color that would look so charming for your front door. It just cheers it up. It goes well with the orange brick shown above. Also very suitable with gray exteriors, taupe, and beige. Would look super cute with white or cream exteriors as well. I don't know the exact color but its very similar to:
or for SW fans, a tad lighter
(click on the colors to go to the respective paint companies websites.)
Debi's Designer Tips about choosing front doors paint colors:
Just because you like a color doesn't mean its the best color for YOUR house. You need to take into consideration the fixed elements of your home like the color of your stone, siding, trim, shutters, landscaping etc. etc.
If your door is under a porch or some sort of overhang, or shaded with lots of trees and doesn't get alot of sun, consider choosing a brighter color so that it will get noticed. For example, in my front door color selection under navy blue, I choose Benjamin Moore Van Deusen Blue to compensate for the big overhang on my front porch. One of the navy blues would have looked amazing without an overhang, but with an overhang, a darker color would look even darker and closer to black.
If your door gets bright sunlight, very bright sunlight can actually wash out a door so consider a color a bit brighter or darker.
Did you enjoy that mini lesson on best navy blue, teal blue & slate blue paint colors for your front door? Which one are you going to choose? There's lots of other options as well out there. Need help?
Read:
Need Help Picking Your Front Door Color?
Hi! I'm Debi Collinson. Designer. Color Consultant & Real Estate Investor.
I grew up learning how to read blue prints, going on construction sites and helping my dad, an Engineer|General Contractor|Co-Owner of a Design|Build|Engineering firm pick out paint colors for his buildings. Since 2006, I have been styling & staging hundreds of homes to make them look like they belong in a magazine page whether the client is styling to stay or staging to sell.
In my spare time, LOL, I buy "fixer uppers" to fix up & either sell for a healthy profit or to rent. I'm currently looking for my 10th "fixer upper." Sign up to receive my e-mails of how to make your home stunning, how to sell your house for top dollar AND how to become financially independent one fixer upper at a time! Read my full story including my design credentials here.