How to Choose Exterior Trim Paint Color for your House
Choosing the correct exterior trim color for your house is important in how it will impact the overall look of your house. Likewise, choosing the right size of trim, can effect your home's exterior and make it a show stopper or feel off if your trim is too skinny.
There are currently two schools of thought on trim color for exteriors. The traditional thought is that your trim color should be a few shades different than your house color to make a difference. The trim color can be lighter or darker than your exterior color, but it needs to be different to make an impact.
The second thought, and the current trending one, is that the trim color can match your house exterior paint color.
There are two design trends on exterior trim paint colors currently trending. The first trend, which is the more traditional way of choosing an exterior trim color is to have your trim at least 3+ shades different than your house exterior. The newest trend for house paint color is to have the trim the same color and the house exterior. In some situations this looks stunning, but in other situations, the house looks like one big blob.
Trim color is not a one size fits all! You need to look at the exterior colors of your home like your brick, stone and/or siding colors(s), and the color of your windows.
White House Exteriors & White Trim
White trim on white houses is becoming a big trend in exteriors and quite frankly, it looks absolutely charming.
Photo: ModernDecor
This house above looks so cute from the previous before picture. The homeowner did an amazing job of choosing a color for the doors & shutters that compliment the house & trim exterior. The wood columns add a much needed touch of interest for the overall effect.
Although you see home owners purchasing different colors in windows, white vinyl windows is still a popular color choice among home owners.  If you have white vinyl windows, its best to have your trim, fascia and columns of your house in a matching white color.  Otherwise, your vinyl windows could stand out like a sore thumb does.  There are other ways to provide color to your house like your front door and landscaping.
Photo: Home Bunch
The homeowner above has a matching trim + exterior color with their white vinyl windows. The yellow door gives this house a much needed pop of color. The homeowners could have added the same yellow color in their porch chairs to balance the yellow color and to add more interest.
Black House Exteriors & Black Trim
The current trend in house exteriors is black exteriors with black trim and black windows. I have to admit, I won't be doing this to my house any time soon but it is one of the leading current trends in modern | contemporary houses. In the house above, they did break up the black on black on black with a large wood wall. It feels unbalanced, because they don't have wood on any other part of the house, but they did break up the all black exterior look. Not everyone has to follow every trend out there. In my humble opinion, lol, and those of other designers, this black on black trend will look dated in 10 years from now. More dated than other trends because of its boldness.
Effective Trim Color Warm Colored Houses
If your brick, stone and/or siding is in the warm tones, a trim color in the warmer tones will enhance the house's overall appearance. Generally speaking, for light colored warm toned houses, your trim should be darker than the main color of the house. Similarly, if you house color is in the darker warm tones, trim in a lighter shade would complement the darker tones well.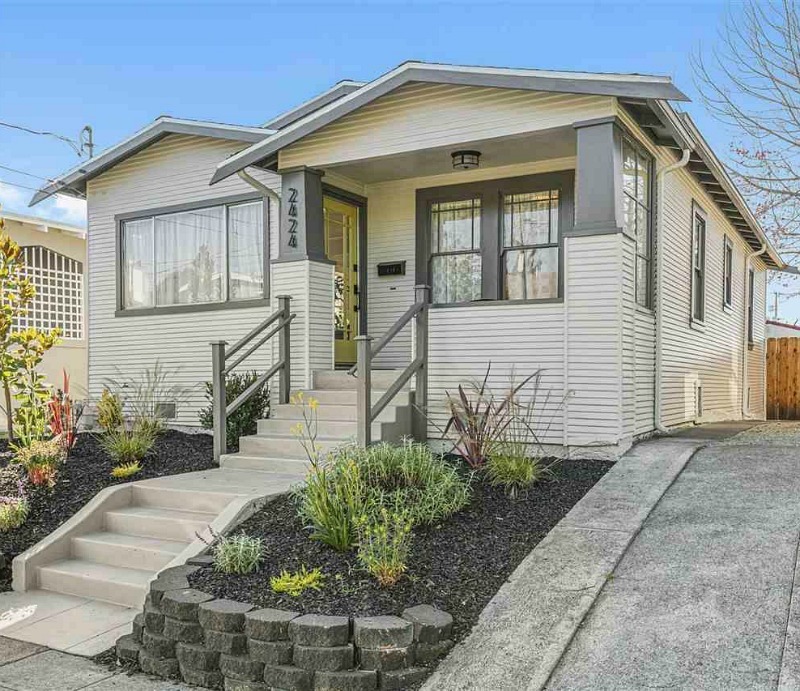 Photo: Hookedonhouses.net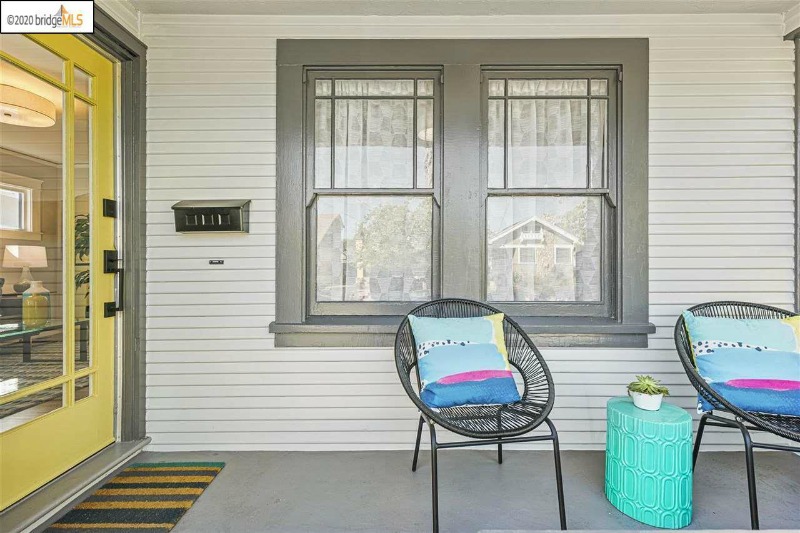 Photo: Hookedonhouses.net
This cream colored siding looks phenomenal with the warm gray trim and cheery yellow front door and other accent colors.
Trim Color needs to be at least 2-3 Shades Different than the House Color to Make a Positive Impact!
I'm in love with this house above. This house is so cute! The homeowners have picked a lovely light beige for their siding, a warm white for their trim which is definitely a few shades lighter than their siding, and picked a light apricot color for their door which gives the exterior pop without looking overwhelming. If you're not going for the same color of exterior plus trim color that is trending right now, this is the way to choose a trim color that is different than the rest of the house!
The size of the window trim needs to be in proportion to your house.
For best results, make sure your trim is in proportion to your house. Skinny trim looks silly and off. Adding thicker trim adds curb appeal to your home which makes your house stand out better and would ultimately add value to your house.
Photo: Lovelyving.com
This trim is a nice thickness and the white looks stunning against the navy wood siding.
Feature Photo: JLP Homes
How NOT to choose exterior paint colors for your home
We need to finish with one bad example of what can go wrong if you choose the wrong paint colors for your home. When you start by picking the trim, door and roof color, you need to take your inspiration from your brick, stone or siding. In this case, you do NOT want to do that. The brick is downright ugly and dated. In this situation, the homeowner would have been better off to paint the brick or cover it with siding. The gray roof is a cool gray tone and does not go with the house trim or door color which is a warm color. But if you look at the trim and door color, they appear washed out. Plus they have introduced two more trim colors ABOVE the window which doesn't complete the anything to be honest.
When choosing colors, you can't just randomly pick colors that you like, they need to go together and complement one another.
Do you have some good ideas for your trim now?
Related Exterior Paint Color Reads:
Need Help Picking Your Front Door Color? Trim Color? Exterior Paint Color?
When we see house exteriors we love, it can seem easy. But when we start looking at 50 shades of white, taupe, gray, beige, and throw in some blue or another color for contrast, we can feel overwhelmed.
I can help you if you're overwhelmed. I over several different packages for outdoor exteriors.
Hi! I'm Debi Collinson. Designer. Color Consultant & Real Estate Investor.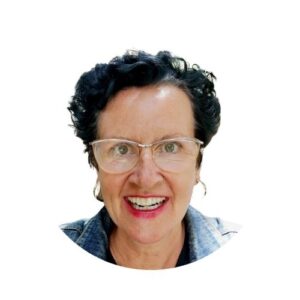 I grew up learning how to read blue prints, going on construction sites and helping my dad, an Engineer|General Contractor|Co-Owner of a Design|Build|Engineering firm pick out paint colors for his buildings. Since 2006, I have been styling & staging hundreds of homes to make them look like they belong in a magazine page whether the client is styling to stay or staging to sell.
In my spare time, LOL, I buy "fixer uppers" to fix up & either sell for a healthy profit or to rent. I'm currently looking for my 10th "fixer upper." Sign up to receive my e-mails of how to make your home stunning, how to sell your house for top dollar AND how to become financially independent one fixer upper at a time! Read my full story including my design credentials here.