5 Easy Front Yard Landscaping Ideas for Great Curb Appeal
Whether you're decorating to stay or staging to sell, your front curb appeal says alot about your house. Your curb appeal can make a positive or negative statement. Landscaping can have a HUGE impact on what your house looks like. Overgrown shrubs or trees and unkempt gardens gives the impression that the inside of the house looks like that also. Conversely, a stunning front yard & amazing curb appeal gives the impression that the rest of your house looks like that also.
Everyone wants their front garden to look amazing, and if you ever watch HGTV you know a house who's curb appeal is magazine worthy definitely adds value to your home. But for alot of people, spending hours in your garden to make it look stunning may be a luxury that you don't have time for, or the interest to do. But careful planning, creativity and with some landscaping knowledge, its easy to create a stunning front yard that will be a show stopper with your neighbors and/or potential buyers.
1. Easy Care Evergreens, Trees & Bushes
Adding different evergreens, trees & bushes in the front yard not only creates variety and interest, its low on the maintenance where evergreen trees and bushes only need pruning typically yearly. Be sure to have a variety of different kinds and heights for interest to the eye. Be careful to plant low lying bushes in front of windows so they don't block natural light flowing into the house.
Photo: DIY Network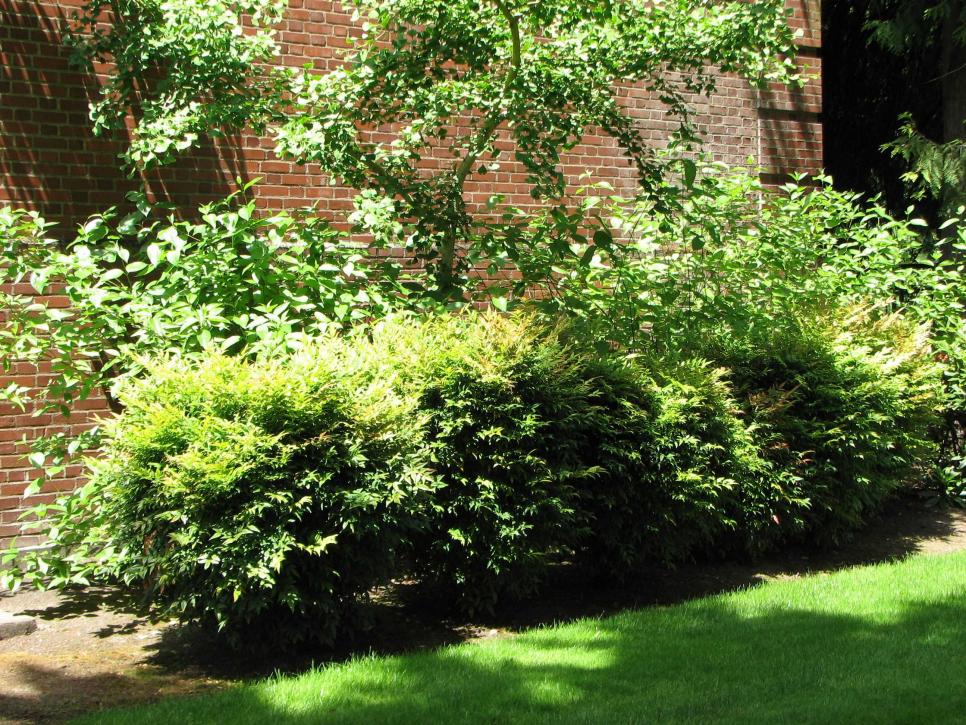 Photo: Bailey Nurseries
2. Perennial Gardens
Flower beds with lots of pretty flowers are so beautiful. But lets face reality here. They are alot of upkeep. If you love gardening and have lots of time, go for annuals. But an easier and less expensive solution to annuals is perennials. They can look just as beautiful as annual flower gardens without the same expense and upkeep.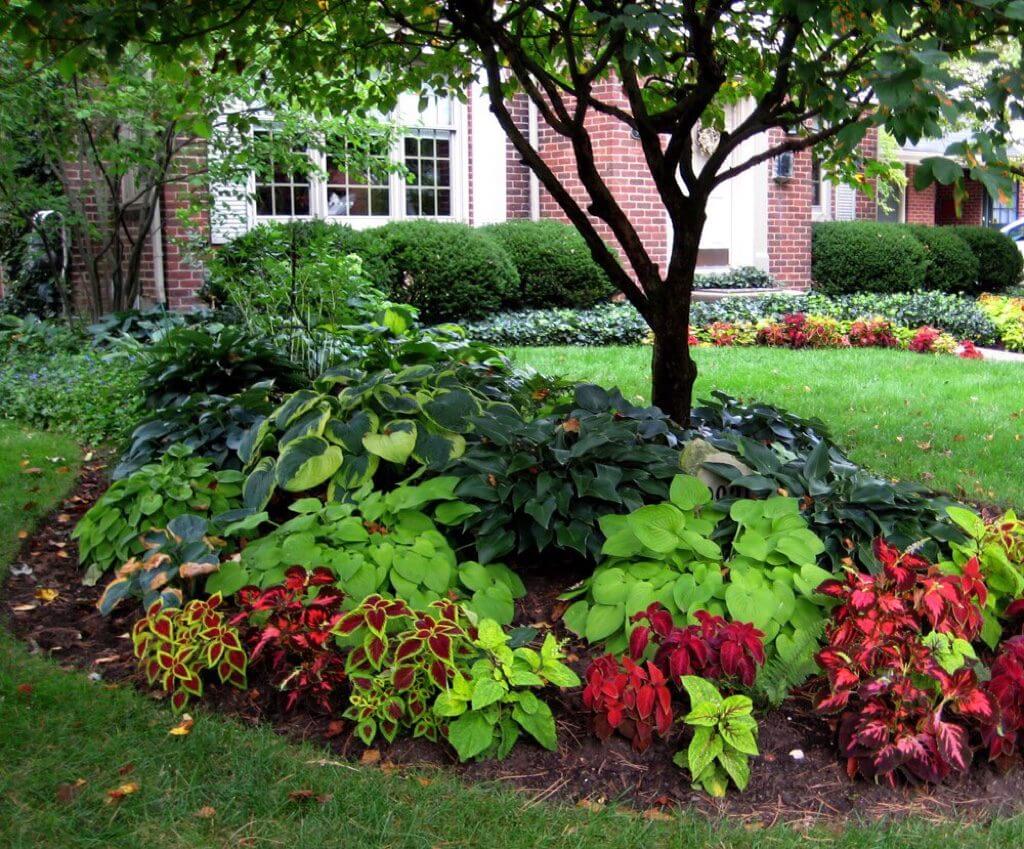 Source: Unknown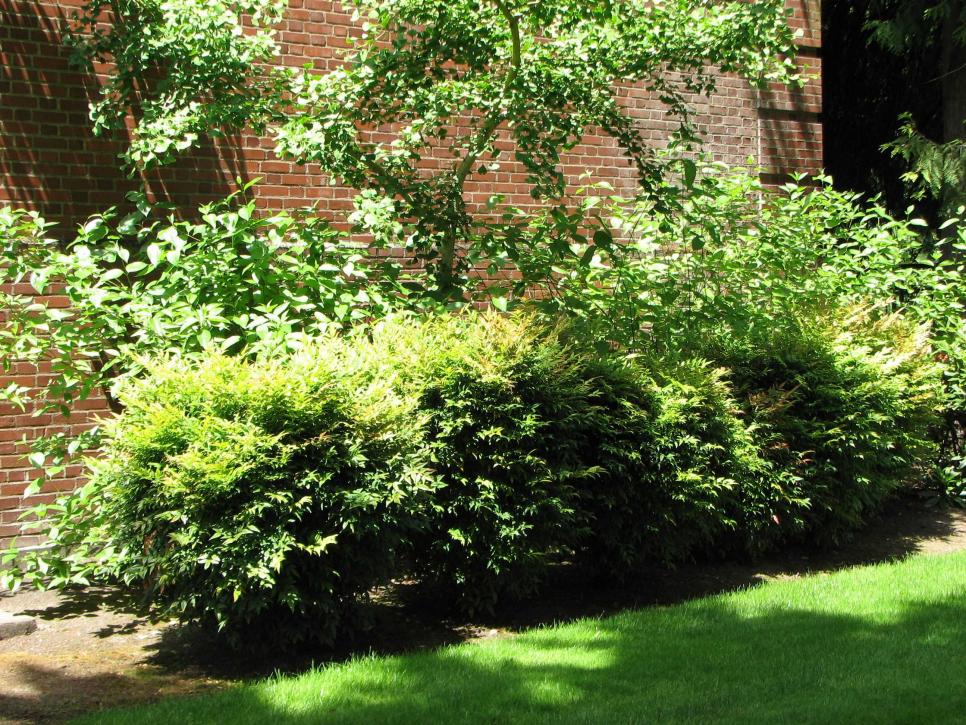 Photo: HGTV
3. Perennial Pathways
Decorated pathways leading up to the front door create a grand entrance. Boxwoods or hostas can enhance the entrance in an elegant yet reasonably effortless way.
Photo: Better Homes & Gardens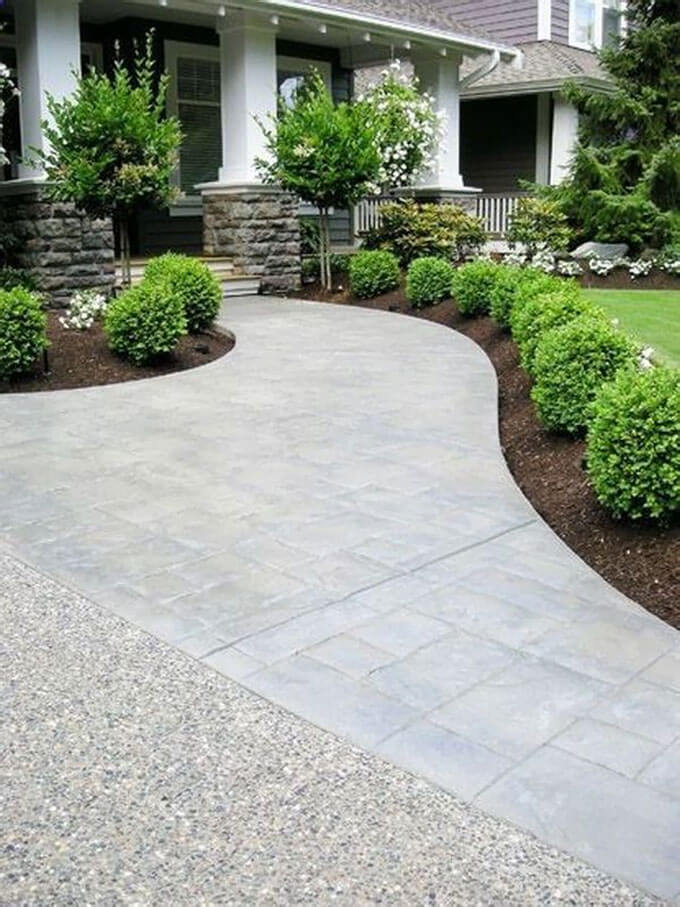 Photo: Better Homes & Garden
4. Lit Pathway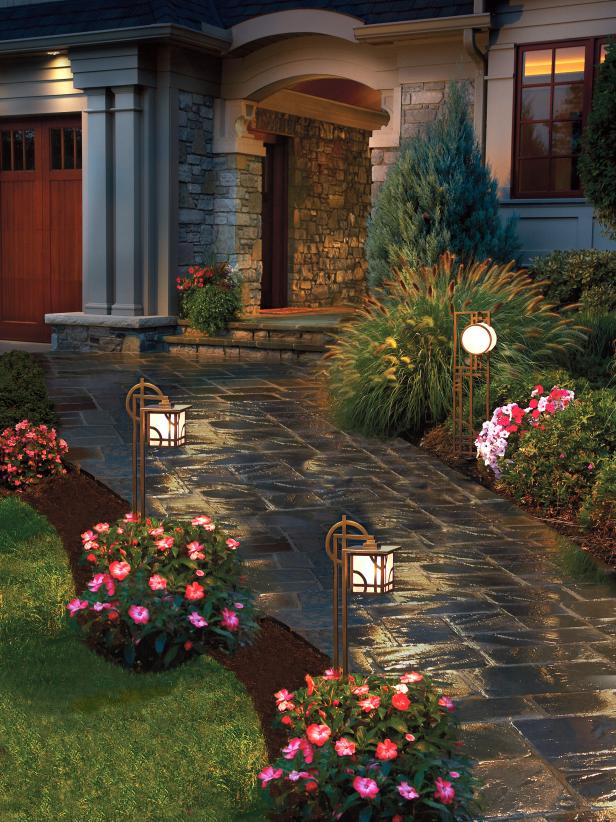 Photo: Kichler Lighting
There is something about lit pathways that create a magical impression of a home at night time. There are many options now for lighting pathways. There is the obvious choice of hiring an electrician to permanently install electrical boxes for pathway lights.
There's also two easier options if you're planning on selling your house and need an install fast. You can purchase a set of pathway lighting with a cord connecting them all to the light socket at the house. You just need to hid the cord in the garden. There's also the eco friendly option of solar lights that don't require electricity. The easiest to install by far, but dependent on solar so they won't shine if you get a few rainy days.
5. Front Door Planters
The final touch to your curb appeal is urns flanking either side of your front door if you have room. There's nothing like lovely flowers, trees, a boxwood or an arrangement of lovely plants to add the icing to your front door curb appeal.
Photo: blog.wellapointedhouse.com
Photo: MyDomaine
Source: Unknown
Hopefully that you are now armed with some solid ideas on how to make your front yard magazine worthy! What idea or ideas are you going to try? Have fun!
Exterior Paint Color Palette
Does your front exterior need a refresh? It needs a makeover. New paint colors for the siding? Trim? Perhaps the front door and garage door? You know your curb appeal could be so much better but you're not sure what to do and where to start.
But you're not sure where to begin. What paint colors goes with your brick/stone/siding. Is your window trim color suitable or should you change it. be changedHow would you rate your home's curb appeal on a scale of 1 to 10 with 10 being like it belongs in a magazine, and 1 being it looks it might be scheduled to being torn down. Be honest! If you rated a 9 or 10 you're good to go. Below that, you need help!!!
If you have answered yes to the above questions,
About Debi Collinson. Designer. Real Estate Investor.
I help busy homeowners, just like you, to style their house to make it a stunning retreat, where they can live and enjoy their home.
I help homeowners, make money beyond their wildest expectations from the sale of their house by guiding them when they're getting their house to sell.
Hi! I'm Debi Collinson. Home Stylist. Stager. Real Estate Investor. It all started back in 2006, at the request of a realtor, where I nervously staged my very first home. But the sellers liked their newly styled home so much that they turned down an offer for full asking price. I went back to design school and the rest is history. — In my spare time, LOL, I buy "fixer uppers" to fix up & either sell for a healthy profit or to rent. I'm currently living in my 8th "fixer upper." Sign up to receive my e-mails of how to make your home stunning, how to sell your house for top dollar AND how to become financially independent one fixer upper at a time!