Best Blue Gray Interior Paint Colors
Blue-gray, or gray-blue as some would call it, has become a top trending color these past few years. Perhaps we have all spent way to much time in our homes, got tired of staring at neutral monochromatic walls and we yearn for more color. More calm. More serenity. Blue is found in nature. Pale blue skies, rich deep blues in water. In general, blue is considered THE most calming and serene color. But it can also appear as icy and cold if its a cool blue.
Just like any paint color, blue-grays can have warm tones or cool tones. Warm tones are calming and relaxing, cool tones are fresh and clean. Its these blue grays tones, both warm and cool, that are becoming very popular and finding their way into our homes in our bedrooms, bathrooms, home offices, dining rooms and even kitchens. They are fresh, modern, contemporary, and can work well with almost any design. They can add warmth and pops of color to an all gray or all white interior.
Blue-gray paint colors, is just that. Its a mix of blue & gray paint. You add more blue, and the color leans towards blue, likewise if you add more gray than blue, the paint becomes more gray than blue and thus a gray-blue. There is no right and wrong when choosing if you want blue-gray vs. gray-blue, it just comes down to what color you like, what looks best with your existing furniture, accessories, and fixed elements, and the look that you want in your room. That's why its so important to test the paint colors in your room to see how it looks at different times of the day, in different lights etc.
There is no right or wrong when choosing if you want more gray than blue or blue than gray in a blue-gray paint color. It just comes down to what color you prefer, and what looks best in your room taking into consideration the lighting, direction of the sunlight, the fixed elements and the furniture & accessories in the room.
The moment you have been waiting for, here is a list of popular blue-gray paint colors by Benjamin Moore and Sherwin Williams. I'm focusing on the blue-grays which means they are blue paint colors with a touch of gray as opposed to the other way around.
Popular blue-gray paint colors for your home:
Benjamin Moore Gentle Gray 1626
Photo: JennaKateatHome.com
BM Gentle gray is a very pretty soft warm light blue with a touch of gray. It works well in a kitchen as seen below, very soothing for a bathroom, office or nursery as well.
Sherwin Williams 6534 Icy
Sherwin Williams 6534 Icy is a cool blue gray with light slight purple undertones. It gives a fresh contemporary look to a room. If you're look for warmth, then skip by this one and choose a warm blue gray color.
SW Upward SW6239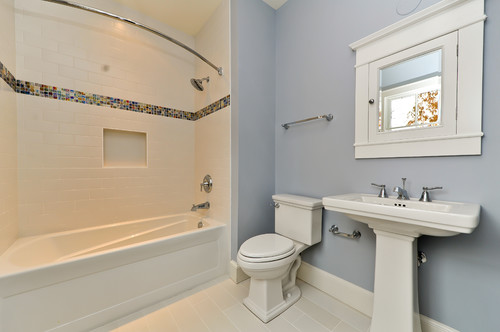 Upward is a light gray with a barely blue undertone. Its hard to determine if its gray with a bit of blue or blue with a bit of gray. Its a sooth relaxing color.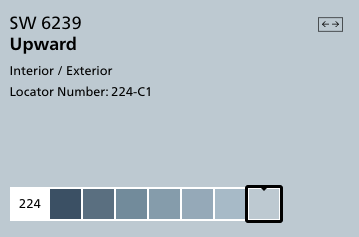 If you go up the color swatch of Upward, the blue intensifies with each step and the other colors are also very nice deeper shades of blue-gray. Again, choosing one is just a matter of personal preference, what works with your furniture & accessories and the fixed elements in your room such as flooring, tiles, cabinets etc.
Let's take a look into the famous Sherwin Williams shades of blue-gray on the Upward scale.
SW 6240 Windy Blue
SW6241Aleutian
SW9151 Daphene
Benjamin Moore Summer Showers 2135-60
Benjamin Moore Summer Shower is a pale baby blue and along the lines of Sherwin Williams Windy Blue above. Clean and crisp. Especially paired with white accents and/or shades of beige for a beachy look.
Benjamin Moore Smoke 2122-40
Photo: Benjamin Moore
Benjamin Moore Smoke is a popular light to medium blue gray. Some designers call it a gray with blue-green undertones, while others call it a blue with gray undertones. To me if designers can't agree, it seems pretty balanced between blue and gray. This color would be suitable for homes that have alot of gray furniture and accessories from the all gray phase we went through and you're trying to tone down and eliminate some gray without breaking the bank. Painting is a relatively inexpensive way to change the mood of a room without having to replace furniture & accessories.
Benjamin Moore Santorini Blue 1634
Photo: Journey Chic
Benjamin Moore Santorini Blue is another popular blue-gray favorite among homeowners. Its a medium blue gray which is a refreshing sophisticated blue with a undertone of gray.
Benjamin Moore Nimbus Gray 1465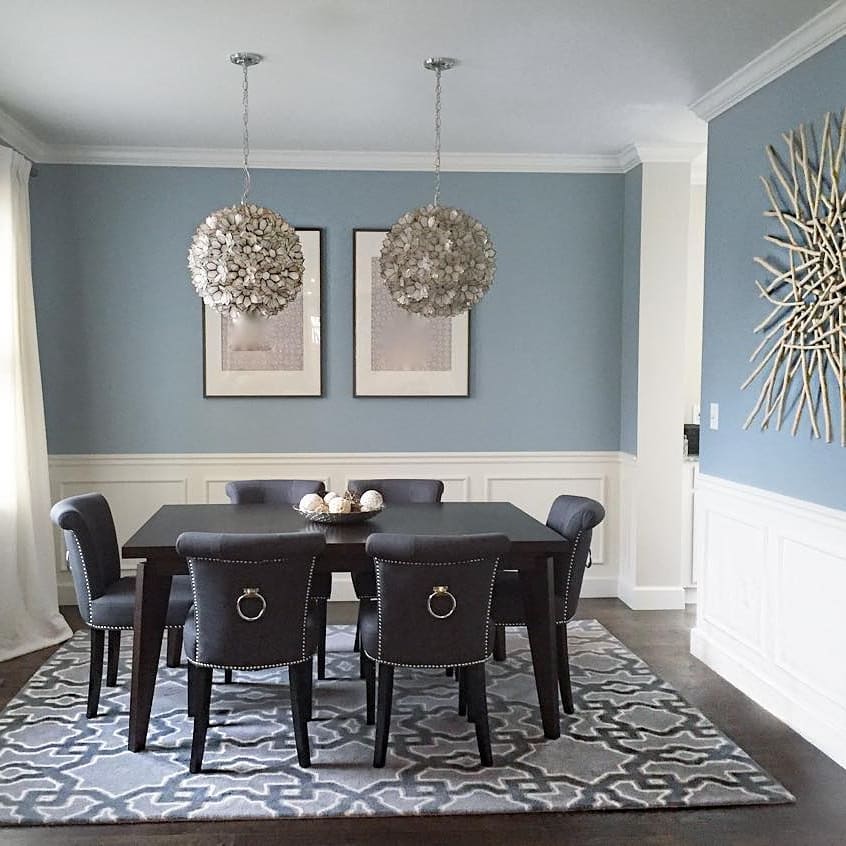 Benjamin Moore Nimbus Gray is similar to Santorini Blue. Home owners often compare the two since they are so similar. Nimbus Gray leans a bit more towards gray but still shows as a medium blue-gray, whereas Santorini Blue leans more towards blue. Again its personal preference, there is no right or wrong. Just a matter of what you like and what color looks best in the room with the furniture and fixed elements.
SW Rain 6219
Sherwin Williams' Rain is one of their popular blue-grays which would be an alternative to Benjamin Moore's medium blue-grays above.
Sherwin Williams Windy Blue 6240
Sherwin Williams Rain is a popular warm blue gray that would be so relaxing to surround yourself in the environment while soaking yourself in the bathtub. It leans more into the blue and gray but at the same time is muted and relaxing. You would never want to leave. lol
Sherwin Williams Jubilee 6248
Sherwin Williams Jubilee is a popular light to medium cool blue gray. This color leans equally to gray and blue. It would be suitable for fixed fixtures that are gray or black as we see in this bathroom above.
Benjamin Moore Van Courtland Blue HC-145
If you're looking for a mid toned blue gray that leans into the blue, Van Courtland Blue may be the color for you. One of Benjamin Moore's most popular blue's its a rich blue gray but not too dark. Its warm and would work in an office, bathroom, dining room or a bedroom. Give this one a try if you're looking for a toned down blue.
Benjamin Moore Water's Edge BM 1635
Photo: Homebunch.com
BM is a medium toned blue gray. Its considered an old blue but works well in contemporary settings. It has a coastal feel that would look lovely in a bedroom or office as well.
Need help?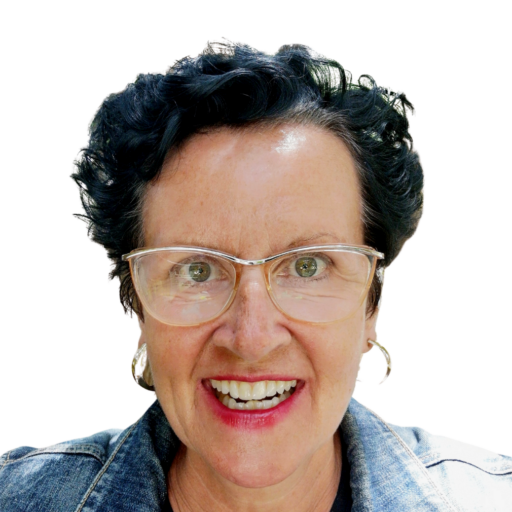 Hi! I'm Debi Collinson. I'm a Designer & Real Estate Investor. — My design advise to the world is … styling your home is the BIG secret in having an Instagram worthy home as opposed to a ho hum look. — My superpower is about styling to make your home stunning all while adding value to your home at the same time!
— From a young age I grew up looking at blue prints, going on construction sites and offering my opinion on color selections. My father, a Professional Engineer, and co-owner of a Design|Build|Engineering firm, gave me an early view and interest into the field of designing, building and decorating. I wanted to become either an Architect or an Interior Designer and to join my father's firm but my mother thought that the renovation/building industry was no place for a woman. LOL. So I took business instead and pursued a career in the corporate world.
But in 2006, at the request of a realtor, I nervously staged my very first home. The sellers liked their newly styled home so much that they turned down an offer for full asking price and stayed. I went back to design school and the rest is history. Since then I've been working my magic helping homeowners make their home stunning whether they're styling to home to stay and live, or stage to sell. — In my spare time, LOL, I buy "fixer uppers" to fix up & either sell for a healthy profit or to rent. I'm currently flipping my 9th "fixer upper." Sign up to receive my e-mails on how to make your home your stunning retreat, how to sell your house for top dollar AND how to become financially independent one fixer upper at a time!