Christmas Wreaths for Your Front Door
Your neighborhood and passer-bys see your front door. Your front door says a lot about you and your home. What do you want your front door to say about you this holiday season?
A Christmas wreath is a fun and easy way to make a statement! Do you want something a little different than the traditional Christmas wreath this year?
Check out these different Christmas wreaths starting with wreaths made from Christmas hydrangeas.
Stunning!
A rustic looking entrance that is very trendy this year.
Not sure what to do with double doors? Use a wreath on each one. These colorful festive wreaths would work on any style of door.
Very different and fun! You need to be in a climate where your temperature won't go above freezing though or you'll loose your wreath LOL!
These wreaths would also look really good hanging lower on a silver or green ribbon.
I know I know. This isn't a front door but I like the simplicity of this wreath. It's very down to earth and it would work well for a front door that is white, red or wood. Also the little red ornaments and red ribbons complete the natural look.
A little too cluttered in decorations. Take away one or two items but the styles of the decorations can give you some ideas.
Love the natural garland around the large columns.
These natural wreaths are a bit plain on their own but the lovely decorated urns compliments the porch. In a bigger space like this one, a wreath sometimes is just not enough.
A different spin on the traditional wreath.
Even fire stations get in on the wreath decorating with these tastefully decorating wreaths!!!
Don't want to do a traditional wreath? This holiday door decoration is festive & unique!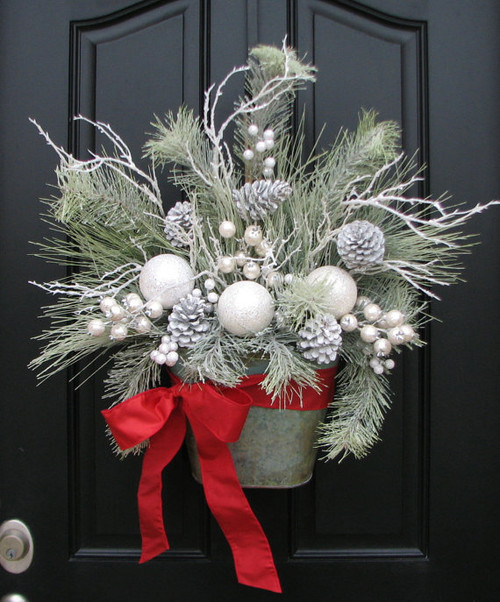 This traditional decoration is too cluttered for my taste. I would include 2 or 3 of the ideas. Either the toy solders or the Christmas trees/presents and garland on top of the door. However, all the decorations are tastefully done and can give you some great ideas.
What's your favorite wreath? Are you game to try something different this year?
Need some design, color or staging advice?
I help busy homeowners, just like you, to style their house to make it a stunning retreat, where they can live and enjoy their home. I help homeowners, make money beyond their wildest expectations from the sale of their house by guiding them when they're getting their house ready to sell.
My design advise to the world is … styling your home is the BIG secret in having an Instagram worthy home as opposed to a ho hum look.
My superpower is about styling to make your home stunning all while adding value to your home at the same time!
It all started back in 2006, at the request of a realtor, where I nervously staged my very first home. The sellers liked their newly styled home so much that they turned down an offer for full asking price and stayed. I went back to design school and the rest is history. I've been working my "magic" with hundreds of clients to create a stunning retreat whether they're styling to stay or staging to sell! In my spare time, LOL, I buy "fixer uppers" to fix up & either sell for a healthy profit or to rent. I'm currently living in my 9th "fixer upper." Sign up to receive my e-mails on how to make your home your stunning retreat, how to sell your house for top dollar AND how to become financially independent one fixer upper at a time!