10 Fast & Easy Fall Porch Decorating Ideas
Before we know it, fall sneaks up upon us. We enjoy the summer, get the kids back to school, and wham, here's fall.
It's hard for me to admit when summer is over but once I'm over the shock LOL, I focus on decorating for fall. It's fun to decorate for fall, but since Christmas is around the corner, for me, I don't go crazy with fall decorations. Some people go all out for fall and Halloween, but the majority of us don't have the time nor want to put out the money for such a short season.
Here are some fast & easy fall porch decorating ideas that will make your porch a show stopper without breaking the bank.
#1 Pumpkins & Mums
Its hard to go wrong with throwing a bunch of pumpkins and mums together with a plant, like ferns or tall grass. They always look great together and screams fall. This combination of yellow, orange and red from Anna of Das Home Diary is very pretty yet simple to do.
#2 Traditional Fall Wreath
Source: Unknown
Wreaths hanging from your front door are simple and yet a classic whether its store bought or a DIY. It never grows old. Adding a cute lantern like the homeowner has here add completes the look adding interest and another place for the eye to land on. Simple, easy and not overdone.
#3 Simple Yet Elegant
Planters are yet another easy DIY project that you create with a fall theme. Add pumpkins, gourds and tall grass for interest. Be sure to include different shapes, colors and different textures to make it fun with lots of variety. Its hard to go wrong with this one. Simple Yet Elegant!
#4 Show Stopping Red & Orange Fall Wreath
This traditional orange & red wreath, looks amazing on front doors that are blue-green, since orange & blue are complimentary colors, as well as green & red are complimentary colors. And of course, either color combination would also look dramatic on a black front door.
Be sure to check out Chelsea of Making Joy & Pretty Things here for the materials required & the details.
#5 Pumpkin Topiary
This DIY urn is pretty fast and easy using your urns from the summer. Its an easy transition from summer to fall by replacing summer flowers with pumpkins and long grass or hay would also add some texture and interest.
Check out EAB Designs for the details!
#6 Oh Deer
Try something different. Decorating a deer antler is not only fun and unique, but its really easy to put together.
Check out Twelfth on Main – Fall Antler Wreath for how to make this creative wreath.
#7 Let There Be Light…
This super easy lantern is so festive for fall. Add small pine cones, gourds and pumpkins to your lantern, put it on your porch with pumpkins & mums and you have a cute & festive fall look with minimal cost and effort.
Photo: SAS Interiors
#8 A Tisket a Tasket Flowers in a Basket
Not all of us have a large porch for a big display of our fall decor. Fortunately, Michelle from Thistle Key Lane has some amazing fall porch ideas for smaller porches starting with this basket door wreath. Check out these small porch ideas here.
#9 Easy Peasy
For those of you that stress over decorating and say that you are not creative, this is an easy one for you. Grab your porch chair or rocker, add some mums, a small pumpkin and fabric or a shawl. Easy peasy! You're done and it looks amazing!
#10 Gourds, leaves and Christmas lights in a basket
Who would have thought that a few gourds, leaves and Christmas lights in a basket can look so amazing? The ribbon is the icing on the cake. Its the earrings on that special dress!
Now that your creative juices or flowing, walk around your house to see what you have that you can work with. Hop in the car to your local Michael's or local grocery store and grab a few items to make an amazing piece that will be the envy of your neighborhood!
Do you have a color question for a room? Need help with styling your home? Or you want to pick my brain on a decorating project?
Hi! I'm Debi Collinson. I'm a decorator, stylist, color expert, stager and real estate investor.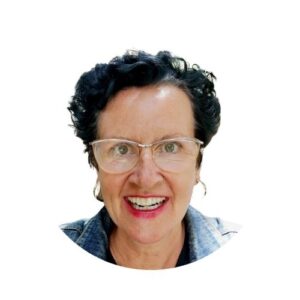 — My design advise to the world is … styling your home is the BIG secret in having an Instagram worthy home as opposed to a ho hum look.
— My superpower is about styling to make your home stunning all while adding value to your home at the same time!
— It all started back in 2006, where I nervously staged my very first home. The sellers liked their newly styled home so much that they turned down an offer for full asking price and stayed. I went back to design school and the rest is history. I've been working my "magic" with hundreds of clients to create a stunning retreat whether they're styling to stay or staging to sell! In my spare time, LOL, I buy "fixer uppers" to fix up & either sell for a healthy profit or to rent. I'm currently living in my 9th "fixer upper." Sign up to receive my e-mails on how to make your home your stunning retreat, how to sell your house for top dollar AND how to become financially independent one fixer upper at a time!