5 Home Styling Mistakes to Avoid when Accessorizing Your Room
Adding accessories to your space, is like adding jewellery to your expensive designer dress. You want to do it with intention, a plan, and you don't want to over or underdo it. Most of us have seen outfits where the wearer as used too much jewellery and the outfit looks like a train wreck.  Your room can look like that too if you don't plan and add to your room carefully.
Styling Mistake #1: Lack of Inspiration & Style
One of the challenges alot of homeowners face is that their room does not have an inspiration or style to it.  They decorate a room but don't start with a plan. They buy a stunning piece of artwork they see on their travels and put it up on their wall.  They buy a matching sofa set and
 rug from a big box store that shouts "big box store."  Their furniture and accessories accumulate overtime as they see items that they like and add to the room.  It becomes a bit of this and a bit of that.  Or some people put off buying accessories because they don't know where to start.  Others go to HomeSense and buy accessories that are currently trending regardless if they complement their furniture or room.  For some people, this method of designing a room works.  The challenge for most people, however, this method becomes a bit of a hodge podge and when you step back and look at the room, it feels off.  It doesn't flow.
When you design a room, you need to start with an inspiration piece.  It could be something natural like a breathtaking view of the mountains or lake if you're that lucky.  It could be an element in the room like a fireplace, stunning light or a kitchen countertop.  It could also be an accessory like a beautiful piece of artwork or a piece of amazing furniture that starts as your inspiration piece.  Once you start with your inspiration piece, you build from their using the design principles below.
Solution: Start With a Plan

Photo: Crate and Barrel
In this stunning photo above, the designer used this awesome view from outside as his/her inspiration and starting point to style this room.  The tree trunk table, plants and natural upholstered furniture, captures reflects perfectly the reality outside.
Related Post: #1 Decorating Mistake Most People Make
Styling Mistake #2: Incorrect Use of Colors
When colors are thrown together with no thought as if they "belong together" colors can compete with each other as opposed to compliment one another.
Solution: Use the Color Theory Principles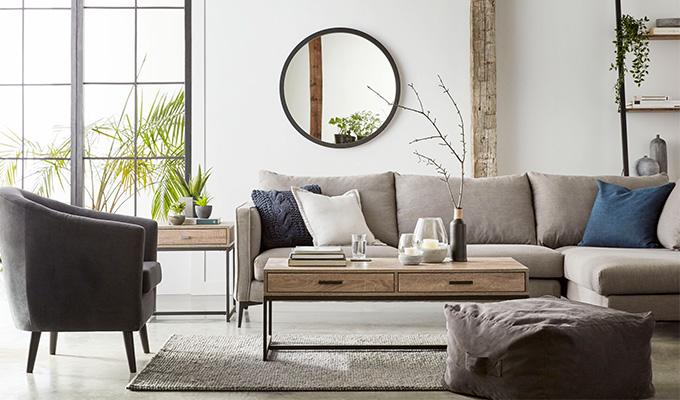 This room above is well put together because its using one of the color theory principles of 'complimentary colors' where its using two opposing colors on the color wheel.  This makes the space feel calm and serene. The colors being used here are blue and brown (brown is a shade of orange) which is opposite of each other. Color theory is a course all on its own but its easy to use some of the simpler color schemes like complimentary, triad, analogous and monochromatic to put together a thought out an effective design.
Style Mistake #3: Over or Under Accessorsizing
It may seem tricky when you're accessorizing to get the right look. What shapes belong together? Is it too much or too little?
Solution: Style with variety in size & texture in groupings
It may seem overwhelming to know where to start when adding accessories to a coffee table or bookshelf.  There may be a tendency to go to a home decor store and buy all the latest trends but rooms that are styled well, reflect the personality of the homeowners.  Pick items from your travels or that have some special meaning.  This room in the photo above from Crate and Barrel is very well styled.  There are several groupings of the accessories on the coffee table, with different shapes, styles, sizes and interest. The table on the far left showings a group of three, an odd number which is more interesting than even numbers and the vases are of different shapes and styles.
Styling Mistake #4: Lack of Textures
A room can feel flat if there is no texture with the furniture and accessorizes in a room.  Making sure that there are textures in accessories, cushions, and furniture will add style to your living room.
Solution: Style with a Variety of Textures in Accessories & Furniture
Photo: Studio McGee
In this photo above, styled my Studio McGee, they have the perfect balance of textures with a textured credenza, rug, stunning coffee table and textured cushions.  The vase with greenery even adds texture giving this room has alot of interest for the eye.
Styling Mistake #5: Inappropriate Artwork
Artwork is like the icing on the cake.  It can make or break the style of the room.  Ideally you want to decorate a room with artwork in mind and build from there.  It's difficult, but not impossible, if you have styled your room without the artwork leaving it to the last.  You may spend time searching for that perfect piece or pieces, but once you have found it, it will be worth the search.
Solution: Artwork needs to Complement the Room in both STYLE and SIZE
Artwork is quite often one of the focal points in a room.  It can make either a positive OR negative statement.  Obviously the goal is to make it a positive one. Picking the right piece of artwork for the room takes time and should not be rushed.  It can be one picture or a combination of pictures. In the picture above under styling with a variety of textures, we see that Studio McGee selected  a set of 4 prints at the appropriate size that filled the wall above the credenza beautifully.  In the picture to the right of this sunroom, the picture by itself would be too small for the size of the room and get lost.  However, the large tree anchors and balances the space which makes the dramatic picture become the focal point of this room.
Read how to create a focal point in a room
The rule for artwork is that it should be 2/3's the size of the piece of furniture that it is hanging above, like a couch for example or credenza.  To hang artwork above a sofa, the bottom of the picture should be anywhere between 6 – 12″ with the 12″ being the maximum amount you want to go.  More than that, the picture will be too high when you're sitting down. You ideally want to be able to see the picture comfortably  while sitting. The height of the picture also needs to be in proportion to the height of the wall.  If the picture is too narrow, it gets lost among a big wall.
Related Reads:
5 Mistakes Homeowners Make with Their Furniture
Finding the right accessorizes and learning to style the room takes time.  Don't rush it and don't be afraid to try different scenarios until you come up with the look that you like.
I help busy homeowners, just like you, to style their house to make it a stunning retreat, where
they can live and enjoy their home. I help homeowners, make money beyond their wildest expectations from the sale of their house by guiding them when they're getting their house ready to sell.
Need some guidance? Check out my various online staging, design, color consults here. 
Don't see what you're looking for?
E-mail me at [email protected]
I help busy homeowners, just like you, to style their house to make it a stunning retreat, where they can live and enjoy their home. I help homeowners, make money beyond their wildest expectations from the sale of their house by guiding them when they're getting their house ready to sell.
Hi! I'm Debi Collinson. Home Stylist. Stager.  Color Consultant. Real Estate Investor. It all started back in 2006, at the request of a realtor, where I nervously staged my very first home. But the sellers liked their newly styled home so much that they turned down an offer for full asking price. I went back to design school and the rest is history.
In my spare time, LOL, I buy "fixer uppers" to fix up & either sell for a healthy profit or to rent. I'm currently living in my 8th "fixer upper." Sign up to receive my e-mails of how to make your home stunning, how to sell your house for top dollar AND how to become financially independent one fixer upper at a time!
Please feel free to share on your Pinterest board! Thank you!