NO More Popcorn Ceiling!
In the fall of 2015, I joined almost 200 Designers/Bloggers in the One Room Challenge hosted by Linda of Calling It Home where we have 6 weeks to transform a room of our choice from boring to stunning! I picked our Master Bedroom & En-suite because it was, quite frankly, dated,boring and I so desperately wanted a change.  But at week 4, I ran into a major set-back with our popcorn ceiling which left me with no choice but to switch to another room for the remainder of the challenge. Was I discouraged?  Yes!  Defeated?  No!!!  I'm back in the spring of 2o16 and transforming our Master Bedroom again! BUT this time, I added our en-suite into the mix.  Why not???
The first thing I started to do for my bedroom design was to pick our colors for the wall.  WRONG!  I started to strip the popcorn ceiling.  Why?  I HATE popcorn ceilings!  Popcorn ceilings really date a house and look so ugly.  And besides, it's so easy to remove the popcorn.  Or is it?
I stripped our popcorn ceiling in our basement and it went so smoothly.  A big ceiling without a hitch!  So I figured the bedroom was going to be the same but it wasn't!  I started in one corner of the room and hit and MAJOR snag!  The ceiling had been PAINTED!
It's easy to remove the popcorn when the ceiling had not been painted, but it's a whole other story when it has been painted.  So I put the ceiling on hold until I had a chance to do my research.   
When I googled removing popcorn ceilings that have been painted, there were several solutions.  I tried the organic route of making a baking soda and water paste.  You brush it on an area for about 10 minutes, leave it and scrape it off.  It worked a little bit but it took ALOT of work and 30 minutes later, it still wasn't smooth.  Next I tried a commercial product that promised that their solution worked.  I put it on, left it for 30 minutes maybe longer, it worked a bit but it started to remove some of the drywall (see photo above on right.)  AGAIN, I admitted defeat – temporarily.
After much more googling and research, I (we) decided to cover up the ceiling with drywall!!!  It was a last resort but I'm so glad we went that route.
And for the lovely ceiling.  I so wish we had done it earlier.
It's great that it's now all done but it sure wasn't fun living through it. I even found popcorn ceiling bits in my bed one night!   (Living in a House While Renovating: 6 Survival Tips for Living Through a Renovation.)
Here's our son's room (below) during the renovation.  We did all 3 bedrooms and the hallway on the second floor at the same time.  His room became the "tool room" and became non-functional for a few weeks.
Would I do it again if our ceilings have been painted? Absolutely!!!  But I probably wouldn't do it the same way.  We did all 3 bedrooms and the hallway at the SAME time.  It's really the best option economically because our contractors would go from room to room the same day. However, the downside was that is was absolute chaos and stressed out our kids.  One room, see picture of son #2 above, was the tool room and was non-functional for a few weeks.
But I LOVE the ceiling now.  Our room is stunning AND we increased the value of our home by doing this!
Ironically our contractors 3/4's of the way through the process told us of a commercial sander that is available to sand down the "popcorn."  That might be a less expensive and less messier route.  I'll let you know as I might try this out our new house that we purchased.  I might wait awhile though!  (lol)
Make sure to check out the other featured Designers HERE, along with the linking participants HERE.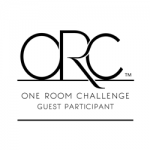 Make sure to stay up to date on my progress for my Master Bedroom & En-suite Makeover:
Week 1 // Week 2 // Week 3 // Week 4 // Week 5 // Reveal
DESIGNER TIP:  If you're going to remove the popcorn ceiling in your home, and your home was built prior to 1980, get your ceiling professional tested to see if their is asbestos in the paint.  If there is, you need a professional to remove it. DON'T do it yourself.  It's not worth the health risk.  The professionals have all the equipment, safety suits & know-how to do the job safely.
I'm Debi Collinson and I am a Designer.  For over 10 years I have been helping clients make their home stunning but also adding value to their home at the same time.  The results are amazing – my clients earned money for their home beyond their expectations.   
Come join me as I share my tips and secrets along the way on how you can make your home stunning  AND to make sure what you're doing will Add Value To Your Home for when your ready to sell.