Its All About the Details: Master Bedroom & En-suite Makeover
Master Bedroom & En-suite makeover: Adding the Glam
In the fall of 2015, I joined almost 200 Designers/Bloggers in the One Room Challenge hosted by Linda of Calling It Home where we have 6 weeks to transform a room of our choice from boring to stunning! I picked our Master Bedroom & En-suite because it was, quite frankly, dated,boring and I so desperately wanted a change.  But at week 4, I ran into a major set-back with our popcorn ceiling which left me with no choice but to switch to another room for the remainder of the challenge. Was I discouraged?  Yes!  Defeated?  No!!!  I'm back in the spring of 2o16 and transforming our Master Bedroom again! BUT this time, I added our en-suite into the mix.  Why not???
We're at week 5 into our challenge and this is the fun part. The big renovations are over like removing popcorn ceilings, ripping down closet walls to make room for a shower,  and sanding parquet floors.
This week it's all about the bling.
We replaced the bathroom en-suite door with a stunning barn door.
Here's the before picture of where the door was originally (the door on the left.)
Replacing the ugly dated ceiling fan with a stunning chandelier transforms the bedroom into a romantic retreat.
Here's a before of the ugly ceiling fan.
For the en-suite bathroom, we added a fun window mirror and antique looking lights.
Ensuite bathrooms that have double sinks earn more money than single vanity sinks so we replaced our yellow sink for a trendy spa double vanity set.
Here's the ugly vanity from before.
Be sure to check back next week for the final reveal of our Master Bedroom & En-suite Bathroom.  Thanks for following along!
Make sure to check out the other featured Designers HERE, along with the linking participants HERE.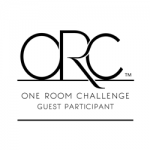 I'm Debi Collinson. Designer. Stager. Real Estate Investor. In 2006, at the request of a realtor, I staged my very first home. Staging houses was just starting to become popular. I was very nervous staging my first house, but the sellers liked their newly redesigned home so much that they turned down an offer for full asking price. I went back to design school and have never looked back. Since 2006, I have been staging & styling spaces to make them look like they belong in a magazine page, and buying "fixer uppers" to fix up & either sell for a healthy profit or to rent them out. I'm currently living in my 8th "fixer upper." Sign up to receive my e-mails of how to make your home stunning, how to sell your house for top dollar AND how to become financially independent one fixer upper at a time!