2022 Design & Paint Color Trends
Last year we saw a major shift in design trends as we all hunkered down at home during our second year of the pandemic. We were all staying at home, working from home, doing school from home and it made us rethink how we live in our homes. But we're in a new year now. We have new hope and are craving a fresh start.
Design trends for 2022 continues from last year trends where we see a complete reversal of what we've seen in the past decade. In the past decade, we saw neutral walls, neutral furniture, neutral everything. Finally this design trend has taken a back set to warm colors, variety & textures, and nature being brought into our homes. Square big box neutral furniture is being replaced by leather, colors, curves and retro pieces. We've come out of a cool minimalist approach to designing our homes into warmth, variety and life. It's an exciting and much needed change.
What are the trends for 2022 and how do we use them?
Green with Envy
Growing up, my parents had green living room walls with matching dining room walls. It seemed to cover the entire main floor. At first I really liked the warm earthy green walls, but as the years wore on, and the same green paint color stayed, my passion for green paint declined. But almost every paint company last year, Benjamin Moore, Sherwin Williams & Behr, named some sort of shade of green as their paint color of the year. My first thought was green? Really?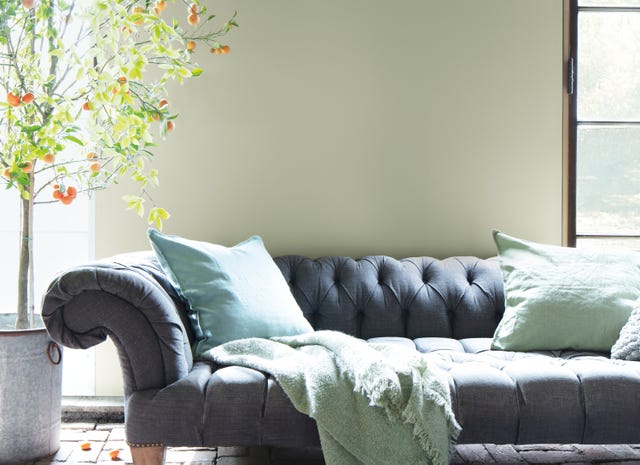 Photo: Benjamin Moore's October Mist, Color of the Year 2022
But let's break this down. We had the gray trend forever where we decorating everything in our house gray for a decade. Gray walls. Gray floors. Gray furniture. Gray kitchens. Gray furniture. You get the idea. Then we were forced to stay in our homes during a lockdown that seemed to go on as long as the gray trend, and we revolted. No more gray. We want more natural tones and furnishings that reminds of us of nature. Green is a wonderful color that evokes a feeling of peace, rest and security.
Green has become the #1 color of the year as we embrace warmth and serenity. Popular greens range from the sage greens, like Benjamin Moore's color of the year, October Mist, green-grays like Sherwin Williams Color of the Year 9130 Evergreen Fog, and more bold greens like forest greens. If you're not sure about painting your interior green, start with a soft sage green in a bedroom or hallway. Bold greens would look great in your home office or a guest bedroom, or as an accent wall if you want to start slowly. Have fun with it. Be adventurous!
Photo: DIYandMAG.com
Surprisingly, green kitchens having been on the rise in popularity since 2018 and has now become the #1 color choice for kitchen color trends. Who knew? I would never have predicted this one becoming the leading color for kitchen color trends. This green kitchen above is a DIY painted green kitchen cabinets. The color complements the wood counter and floors beautifully.
Warm neutrals
Photo: Sherwin Williams' Poised Taupe SW6039
As we are moving away from gray and white walls, we're seeing a resurgence of warmer colors like warm whites, creams, beiges, and nudes. Also for the bolder crowd, we're seeing taupe, camel, and rust for walls, upholstery, and other furniture to create a cozy, inviting feel to your space.
Curves
In keeping with our movement to get away from boxy furniture, patterns and minimalist styles, we are going to see curves. And lots of them. Curves in our furniture, curves in our architecture like fireplaces as pictured above, archways, staircases and more. We want warmth and comfort in our homes right now to compensate for the past couple of years of living in a stressful pandemic.
Need help? Need to pick my brain for an hour or two? Need color guidance? A makeover? Check out my online e-design, e-color & e-staging consults here.
Vintage + Contemporary Furniture
Good bye white and gray furniture! Bold couches and accent chairs is a new thing. The bolder the better. Green couches are hot this year – who knew??? If a big bold couch is too much for you, accent chairs in a different color are a nice way of getting a bold pop of color without over committing like a couch. Cognac, especially leather cognac couches or chairs are in. Yes please! Earthly neutrals such as warm taupe, burnt yellow and sages are also in.
We are also seeing a resurgence of vintage furniture being mixed in with contemporary pieces. More antique, rustic wood furniture. Glass tables tops are being replaced by wood tables. Tastefully done, this mixture of vintage + contemporary is the new design style we didn't know we needed. Goodbye big box store matchy matchy furniture. Its time for you to go and it could not come any sooner. Its no longer a thing.
Wallpaper
Wallpaper is coming back with a vengeance. It's bold and contemporary, and also soft, floral, pretty and can look like wallpaper you saw in your grandmother's home. Not sure about trying out wallpaper? Start small with a powder room or an accent wall to get your confidence up with this new trend that most likely, will be around for a while.
Texture, texture & texture
Photo: Hackrea
We've already seen movement into textures for styling our interiors, but 2022, is going to bring this to an all new level. We are going to see nubby, furry and cozy fabrics like boucle and natural fabrics. We will see many types of layers using the new color palettes. But texture won't just be limited to our fabrics, we will also see texture in our furniture and accessories using a variety of materials like leather, wood, rattan, cane, metal and stone.
Biophilic Design aka Bringing Nature Inside
Since we basically stared at the same four walls for the last two years at the height of the pandemic, we saw more plants, and lots of them, scattered throughout the house to create a warm, cozy, inviting atmosphere. Biophilic design bring the outdoors into your home through plants, skylights, and having rooms that can open up to the outdoors to create a flow from your interior to your outdoor space.
Photo: Mocha Casa Blog
What's Going Out in 2022?
Good-bye Gray!
Trends come and trends go. The gray trend has been around for the last decade.
But now due to the pandemic, we are getting away from cold gray. We stayed inside cooconing in our homes for well over a year. Due to staying inside, we got tired of staring at our gray walls, gray furniture, gray kitchens, gray bathrooms and quite frankly, gray everything. We are now seeing warmer neutrals and bolder colors for pops off color among the neutrals. Maybe we learned a lesson from the all gray era to mix things up a bit.
All White Interiors
As we say good-bye to the all gray trend, we are also saying good-bye to the all white trend. That doesn't mean that we won't see white walls, in fact, white walls are taking over as the new neutral replacing gray, but we will see more color on our walls, furniture & accessories.
Minimalism is finally on its way out
No longer will we be seeing sterile, minimalistic spaces. Our spaces will be revitalized with color, warmth, textures, layers, fabrics and plants. We are now allowed to put our personalities back into our spaces! Yeah!!
Less Boho
Photo: Getty
We will see the Boho style being morphed into a more biophilic design by bringing nature inside. The Boho aka college style furniture and accessories will be replaced by vintage furniture.
Farmhouse is out! No more shiplap!
Photo: Collov Home Design, Unsplash
Like Boho, the farmhouse style that has dominated for the past decade and our TV screens in various fixer upper shows, will become less prominent as the new design trends slowly take over.
What design trend or two are you going to try this year?
Hi! I'm Debi Collinson. I'm an interior stylist, color expert, stager and real estate investor.
My design advise to the world is … styling your home is the BIG secret in having an Instagram worthy home as opposed to a ho hum look.
My superpower is about styling to make your home stunning all while adding value to your home at the same time!
It all started back in 2006, at the request of a realtor, where I nervously staged my very first home. The sellers liked their newly styled home so much that they turned down an offer for full asking price and stayed. I went back to design school and the rest is history. I've been working my "magic" with hundreds of clients to create a stunning retreat whether they're styling to stay or staging to sell! In my spare time, LOL, I buy "fixer uppers" to fix up & either sell for a healthy profit or to rent. I'm currently living in my 9th "fixer upper."
Sign up to receive my e-mails on how to make your home your stunning retreat, how to sell your house for top dollar AND how to become financially independent one fixer upper at a time!