Do Your Lights Add Value to Your Home?
One house I staged many years ago was a delight to stage.  The homeowners had spent alot of money updating their home in order to sell it for maximum dollars.  They had wonderful design tastes and made the home trendy and very inviting.  They hired someone to do the difficult renovations like the kitchen and basement, but tackled other small renovations themselves.  The result was amazing. Their home was
stunning!!! Except for one area! Yeah – you guessed it!  THEIR LIGHTS!  They left their builder lights throughout the house!!! When I explained to them that updating the lights was the icing on the cake that completed the look, they hummed and hawed since they had already spent so much money on their renovation, they were hesitant to spend more. When I came back a few days later to stage their home, I was pleasantly surprised to see that they took my recommendations and replaced those builder lights.  What a difference that change made to their home.  Their home sold quickly in a few days with multiple offers. They received the highest price ever for a home on their street at that time!
Whether you're styling to stay, or staging to sell, most homeowners tend to do focus on the renovation of that room and update the lighting for that area, but leave the dated or worse, boring builder lights that came with the home when they moved in.  Keeping your original lighting when you've done renovations is like buying an expensive Chanel evening dress and wearing an old piece of jewellery that you've had for years to show it off.
Entryway Lights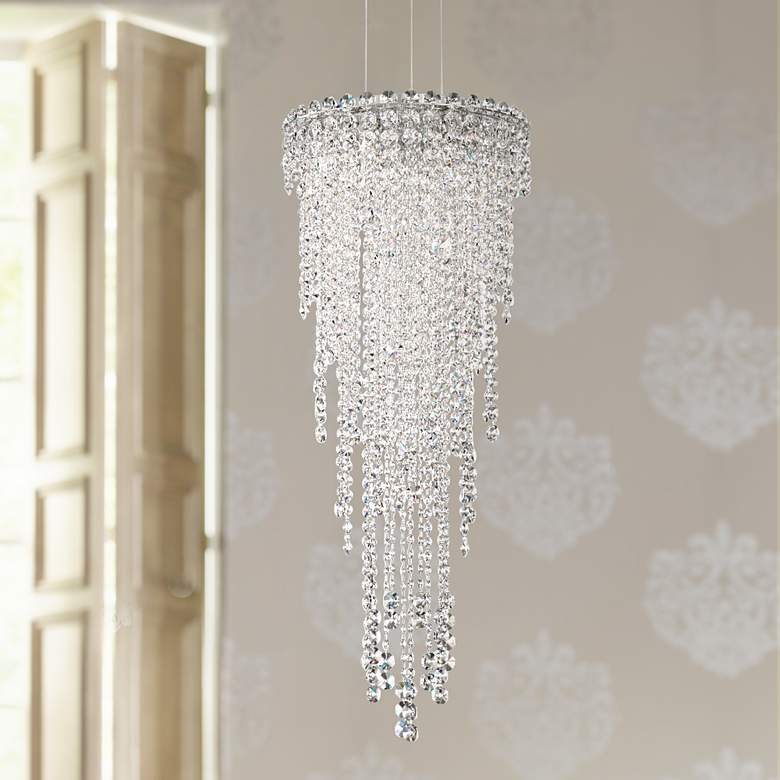 Your entryway lighting sets the tones for the rest of your house.  It tells guests what they can expect the rest of the house to look like. You want guest to say WOW when they walk into your home and lighting is a great way to make this happen.
Our light to the left makes a stunning statement for a hallway staircase.
Hallway Lights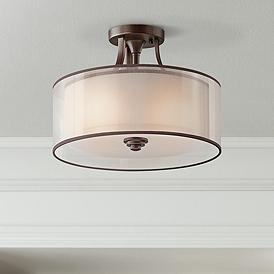 Hallway lights are such an inexpensive way to transform your hallway compared to other renovations in your home. AND they value they add to your home.
When choosing hallway lights, be sure to have the same metal throughout.  For example, if you have a bronze chandelier in the front hallway, your hallway lights that are in the sight line of the hallway chandelier should be in the same color and texture of the bronze metal as the hallway.  Does it have to be the same light?  NO!  In fact, that would be quite boring.  It's OK to have 1 – 2 different kinds of lighting in the same metal on the same floor as long as you maintain a flow throughout the space.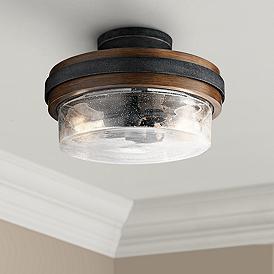 These two ceiling lights above from lampsplus.com will transform any boring basic hallway lights to make an inviting statement.  The ceiling light on the left is suitable for a transitional home whereas the light on the right is perfect for that contemporary space.  With either light, you can take the metal and use that same metal in a different light for a room or a second floor.
Chandeliers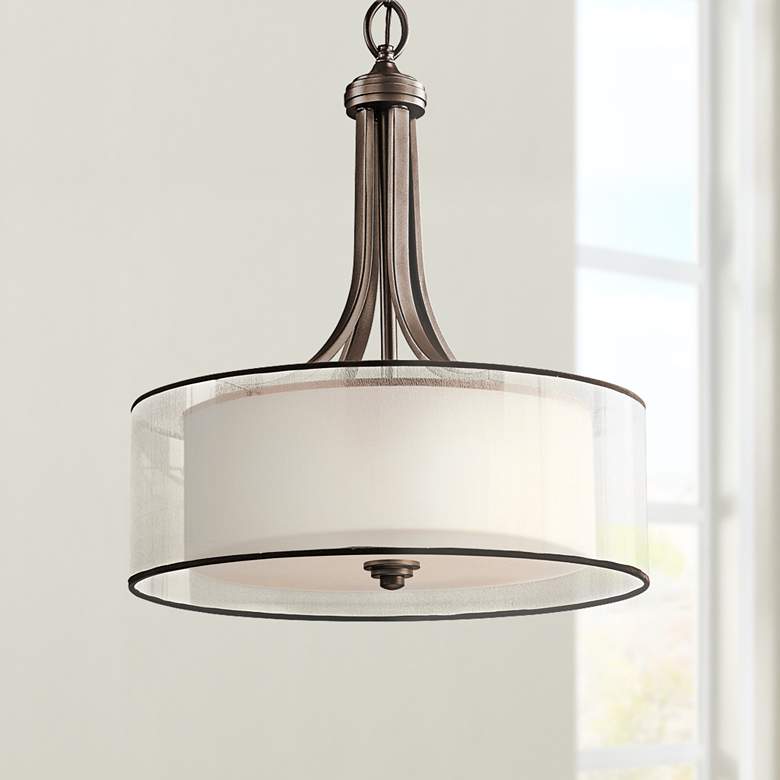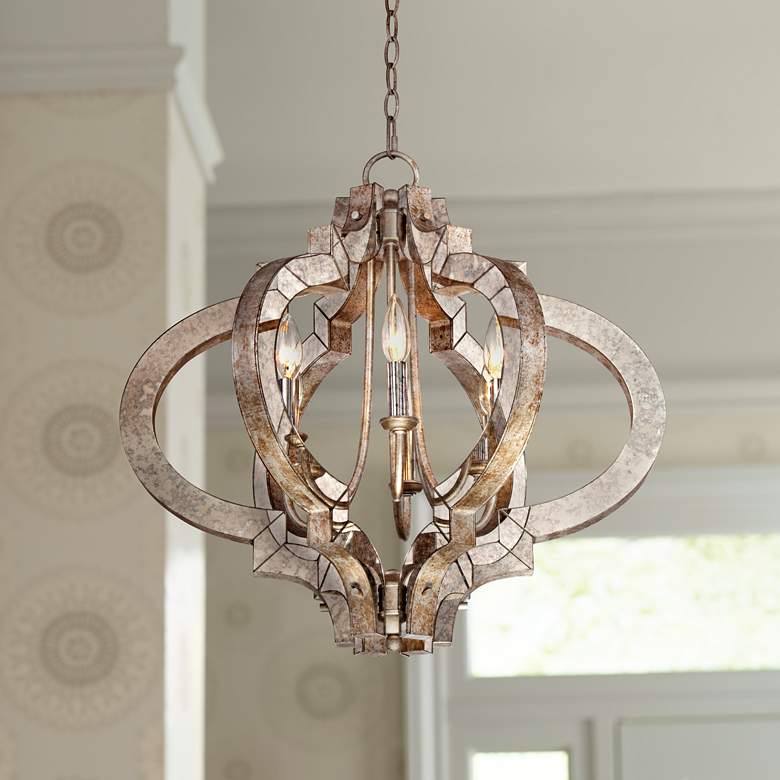 Chandeliers are the focal point in a room.  Its where the eye typically lands when one walks into a room.  A chandelier can make a positive statement about the room if the style is eye catching and fits with the decor.  Similarly it can make a negative statement if its too small, too large, dated or just inappropriate for the space. Fortunately, chandeliers come in may colors, shapes, styles, trends and price ranges to accommodate all the different spaces and styles of decor to suit their space.
Room Lights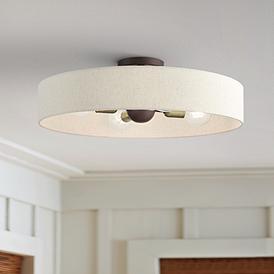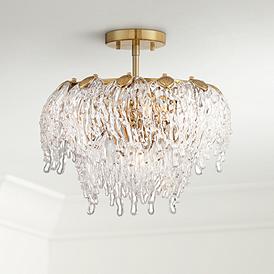 Bedroom lights often get neglected.  You buy brand new bedding, update the walls with a fresh coat of paint, but what about the lights? They get overlooked but a quick and relatively inexpensive new light change dramatically change the feel of the room. The light on the left would be perfect for an office or a boys bedroom, while the cute mini chandelier on the right is perfect for that girly girl bedroom.  What a difference a new fresh light can make to a room.
Pot Lights
Pot lights are not only an efficient way to light up the room and add a sophisticated look to the space, they definitely add value to a home and well worth the investment. If you're debating about whether to do pot lights in a living space or dining room, it may  be worth your while to have an electrician come and give you a quote on what it would cost.  One thing to keep in mind, adding pot lights to a room, ALWAYS adds value to your home.
Related Posts:
Top 5 Inexpensive Renovations to Sell Your House
All lights can be found at LampPlus.com
Please feel free to share to your Pinterest board.
I'm Debi Collinson. Stager. Stylist. Real Estate Investor. In 2006, at the request of a realtor, I staged my very first home. Staging houses was just starting to become popular. I was very nervous staging my first house, but the sellers liked their newly redesigned home so much that they turned down an offer for full asking price. I went back to design school and have never looked back. Since 2006, I have been staging & styling spaces to make them look like they belong in a magazine page, and buying "fixer uppers" to fix up & either sell for a healthy profit or to rent them out. I'm currently living in my 8th "fixer upper." Sign up to receive my e-mails of how to make your home stunning, how to sell your house for top dollar AND how to become financially independent one fixer upper at a time!
Please feel free to share on your Pinterest boards! Thank you!