3 High Impact Areas to Decorate in Your Home for Christmas
Updated: Novemeber 21, 2021
The holidays are fast approaching and it's time to think about decorating our homes. Some people go all out and decorate their house from top to bottom. They have a Christmas tree in their entrance way, family room, and sometimes Christmas trees in their kids bedroom. They spend alot of time and money doing so and it looks great. BUT it's NOT necessary. If you just want to focus on 3 main areas of your home, these 3 areas will give your home that holiday decorated look without spending hours decorating your home or your bank.
1. Focus On Your Curb Appeal
Your curb appeal says a lot about your home. Just because its winter doesn't mean you need to stare at boring empty pots. Winter containers are a wonderful addition to your front porch. You can make your own with decorated birch stems, different layers of greenery, pine cones and decorative ornaments & red berries. Wreaths for your front door also add a warm and welcoming touch for visitors. There are so many choices for front door wreaths. They don't have to be just green and red anymore.
Photo via Linda from Calling It Home
Tips for Snowbirds: If you're away for part of the winter, decorating your front porch will give your home a lived in look and not advertise to strangers that you're away. Choose evergreen, birch sticks and timeless items. Avoid using ornaments etc. that will look out of place once the holidays are over.
2. Decorate Your Mantel or Entryway Table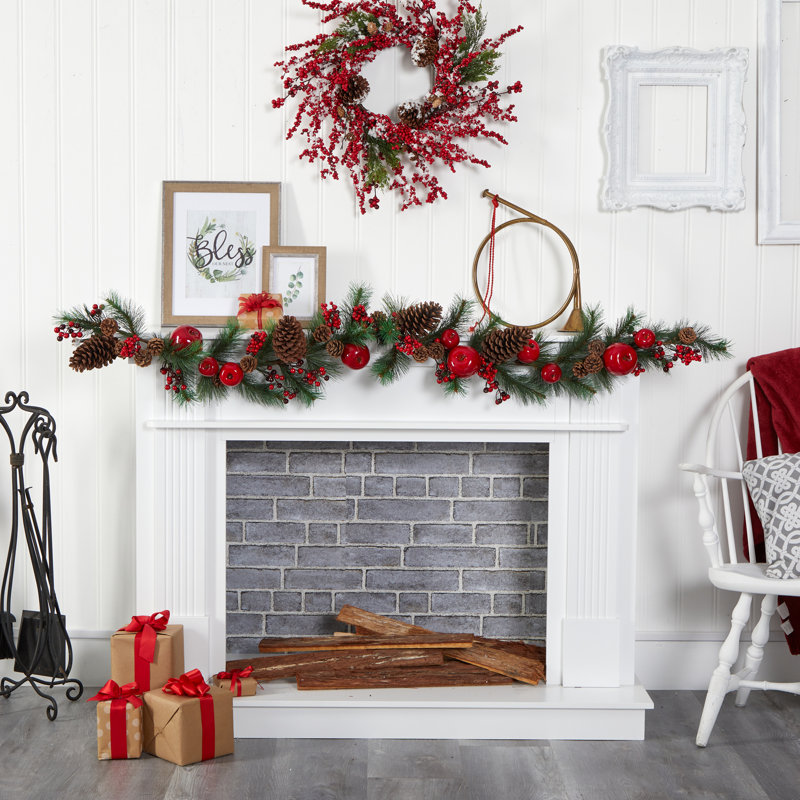 Source: Wayfair
Make your entryway tables and mantels stand out by festively decorating them. Use boughs from your backyard, laced with pine cones and tiny white lights. Use hurricane lamps and candlesticks to draw the eye upwards. Fill apothecary jars with ornaments. Balance, color coordination and variety will make your mantel or table interesting. Groupings of items should be in odd numbers – never even.
3. Christmas Trees
There is something about a Christmas tree or holiday tree, that sets the mood and tone for the home. Some people have one tree typically in their family room where they open presents Christmas morning whereas others like multiple trees throughout the house.
The Secret To a GREAT Christmas Tree
Have you wondered why some trees look so amazing while others look just good?
Almost anyone can decorate a Christmas tree but there is one big SECRET that makes a Christmas tree stunning – it's the lights! Lights make your tree sparkle so don't skimp on the lights! The tiny white or clear lights are absolutely stunning. A bare minimum number of lights to use is 1 strand of 100 lights per 1 foot height of tree. Therefore a 10' tree would get 10 strands of lights. Feel free to add more lights on pre-lit Christmas trees. Yes that's alot of lights but try it! You will not want to go back to just the regular amount of lights.
The BIG secret to a GREAT Christmas tree and an average looking tree is in the lights. You should use 1 strand of lights for each 1 foot the tree is high. Therefore a 10′ tree should have 10 strands of lights!! The second biggest secret to a great Christmas tree is adding smaller decorations INSIDE the tree along the branches. This will give the tree a fuller look!
Decorating the full tree is also another designer secret in a great looking tree. That means putting smaller ornaments inside the tree along the branches. Ornament sizes needs to be carefully considered to make this look work.
There's alot to consider when choosing trees as well. Real or artificial? Big and wide or a thin pencil style? Flocked or natural? Traditional or modern? There is no right or wrong answer when deciding which type of tree for your home. It depends on the style of your home, space and design. Whatever you decide its all about having fun while decorating and making memories with family and friends.
Hi! I'm Debi Collinson. I'm an interior stylist, color expert, stager and real estate investor. — My design advise to the world is … styling your home is the BIG secret in having an Instagram worthy home as opposed to a ho hum look.
My superpower is about styling to make your home stunning all while adding value to your home at the same time!
It all started back in 2006, at the request of a realtor, where I nervously staged my very first home. The sellers liked their newly styled home so much that they turned down an offer for full asking price and stayed. I went back to design school and the rest is history. I've been working my "magic" with hundreds of clients to create a stunning retreat whether they're styling to stay or staging to sell! In my spare time, LOL, I buy "fixer uppers" to fix up & either sell for a healthy profit or to rent. I'm currently living in my 9th "fixer upper."
Go to my free resource section and sign up to receive my e-mails on how to make your home your stunning retreat, how to sell your house for top dollar AND how to become financially independent one fixer upper at a time!